I find that alot of locals write me concerning items on my blog. So anyone out there with waterfront property in Bonner County Idaho. I a few different buyers looking for waterfront property. My biggest needs right now is a 3+ bedroom waterfront home on either Lake Pend Oreille, Cocolalla lake or Pend Oreille River, or lake Couer D' Alene in the 500K range. My other is for waterfront with acreage up to 850k. This can be on any boatable water and would prefer plenty of garage space (Or if the price is on the lower end, room to build more garages.) We have seen everything in the mls and are looking for more. If you are considering selling your property and are in the 500k range through 850k, please contact me at rain@sandpointrealty.com
I have a sale pending in which the buyers are seeking an IHA loan. Here are some of the requirements for the inspection.
• If the property is served by an individual water supply system, the local health authority or state certified laboratory must perform a water quality analysis.
• If the property is served by an individual septic system, the septic system must be free of observable evidence of system failure. A FHA roster appraiser, a government health authority, a licensed septic system professional, or a qualified home inspector may perform the septic system evaluation. The separation distances between a well and septic tank, the drain field, and the property line should comply with HUD guidelines or state well codes.
• For any property in which the lender or FHA roster appraiser is in doubt about the operation of septic systems for the dwelling or in the neighborhood (e.g. if the property isvacant), the local health authority or a septic system professional has determined the viability of the system.
• Any repairs necessary for the dwelling to be structurally sound, functionally adequate, and in good repair must have been completed prior close of escrow. Paint must be complete, and crack free. Floor coverings in all rooms, windows in good repair, baseboards and trim complete.
Another distinctive offering from Dennis Minnick of Classic Mountain Homes. This custom home on 5.1 beautiful acres in the dufort valley in Sagle Idaho. This home boasts superior craftsmanship and attention to detail. 3 master bedrooms and bath,hydronic heat,dramatic great room,3 car garage,paved, wrought iron work, granite counters, circle sawn wood floors. roads,ccrs,wonderful mountain views
Offered at $629,000
Very private park like setting with a beautiful, extremely well kept home on the rim. Paved access, 3+ car garage plus another 2 car garage, big shop including a lube bay and RV parking. The home is South facing with vaulted ceilings, hardwood flooring, pellet stove and electric heating. Beautifully landscaped with exceptional valley and mountain views.
Offered at $320,000
Seller reduced this 5 acres from 89k down to $59,000 to sell quick. Home site with views of Lake Cocolalla. Phone and electric at the property line and Kellie lane goes through property. Well produces 5 gallons a minute. Great for horses and a steal for water view property. Plenty of wildlife and near forest land for plenty of recreational opportunities. Year round accessible and in a very friendly community. Bring all offers today.
PENDING
Need a cash buyer today. Motivated seller dropped this 6 acre piece from 89k to $39,000 We haven't enjoyed these prices for quite some time. 6 acres surrounded by county road on 3 sides. Great mixture of trees, Seasonal Creek through middle of property. Phone and electric to the property line. Great views, gentle rolling terrain. End of a culde sac, would make wonderful horse property and house site.
Bring your offers today.
SOLD
Here are the listing stats for Couer D' Alene Idaho. Prices have lowered quite a bit in CDA and buyers are in the mood to buy.
New Listings Active Listings Sold Listings Months Inventory

Mar/2009
1,229
6,770
187
36.20
Feb/2009
1,081
6,434
135
47.66
Jan/2009
1,251
6,171
120
51.42
The housing stats for the Selkirk MLS in Bonner County Idaho.
Market Statistics All Selkirk MLS
Statistics for: Class=RE, LD, CI, MF AND Date Range=01/01/2009-04/30/2009 AND Board=-1; As Of: 4/24/2009
| | | | | |
| --- | --- | --- | --- | --- |
| Class | Bedrooms | Current Active | Avg List Price | Avg DOM |
| All | All | 2,952 | $373,034 | 197 |
| RE | All | 1,183 | $533,242 | 163 |
| RE | 0-1 | 88 | $363,352 | 199 |
| RE | 2 | 209 | $338,467 | 172 |
| RE | 3 | 568 | $471,929 | 155 |
| RE | 4+ | 318 | $817,783 | 163 |
| LD | All | 1,585 | $241,896 | 220 |
| CI | All | 163 | $492,868 | 214 |
| MF | All | 21 | $315,633 | 220 |
| | | | | | | | | | | |
| --- | --- | --- | --- | --- | --- | --- | --- | --- | --- | --- |
| Class | Bedrooms | Total Listed | Num Sold | Pct Sold | Avg List Price Sold | Avg Sale Price Sold | Sale Price/List Price Ratio | Avg DOM Sold | Avg List Price Unsold | Pct Expired |
| All | All | 1,336 | 163 | 12.20% | $294,645 | $259,791 | 88.17% | 160 | $348,296 | 61.90% |
| RE | All | 691 | 119 | 17.22% | $346,773 | $307,656 | 88.72% | 158 | $429,776 | 54.85% |
| RE | 0-1 | 44 | 7 | 15.91% | $186,985 | $172,000 | 91.99% | 129 | $299,646 | 47.73% |
| RE | 2 | 115 | 16 | 13.91% | $158,663 | $143,888 | 90.69% | 169 | $378,561 | 73.91% |
| RE | 3 | 345 | 73 | 21.16% | $246,488 | $233,638 | 94.79% | 172 | $400,238 | 48.70% |
| RE | 4+ | 187 | 23 | 12.30% | $844,560 | $697,796 | 82.62% | 112 | $538,750 | 56.15% |
| LD | All | 564 | 38 | 6.74% | $128,112 | $105,260 | 82.16% | 165 | $222,545 | 70.57% |
| CI | All | 72 | 4 | 5.56% | $380,750 | $352,375 | 92.55% | 106 | $639,298 | 65.28% |
| MF | All | 9 | 2 | 22.22% | $184,950 | $162,750 | 88.00% | 330 | $229,634 | 33.33% |
I am relieved to see the real estate market picking up. I was lucky to stay busy during the slowest times, and lucky that North Idaho did not feel quite the downfall that most of the country felt. I wrote 6 offers this week, 3 of which will go through, and 2 that are in counters right now. We had tons of walkins, the phone was ringing and the emails about property interest is flooding in. I only had to BPOs this week.
I am sure part of it is that spring is in the air. What are you seeing in your market?
When I was quite young, my father had one of the first telephones in our neighborhood. I remember well the polished old case fastened to the wall. The shiny receiver hung on the side of the box. I was too little to reach the telephone, but used to listen with fascination when my mother used to talk to it. Then I discovered that somewhere inside the wonderful device lived an amazing person – her name was "Information Please" and there was nothing she did not know. "Information Please" could supply anybody's number and the correct time. My first personal experience with this genie-in the-bottle came one day while my mother was visiting a neighbor. Amusing myself at the tool bench in the basement, I whacked my finger with a hammer. The pain was terrible, but there didn't seem to be any reason in crying because there was no one home to give sympathy. I walked around the house sucking my throbbing finger, finally arriving at the stairway.

The telephone! Quickly, I ran for the foot stool in the parlor and dragged it to the landing. Climbing up, I unhooked the receiver in the parlor and held it to my ear. "Information Please," I said into the mouthpiece just above my head. A click or two and a small clear voice spoke into my ear.

"Information"
"I hurt my finger…" I wailed into the phone. The tears came readily enough now that I had an audience.
"Isn't your mother home?" came the question.
"Nobody's home but me." I blubbered.
"Are you bleeding?" the voice asked.
"No," I replied. "I hit my finger with the hammer and it hurts."
"Can you open your icebox?" she asked. I said I could. "Then chip off a little piece of ice and hold it to your finger," said the voice.

After that, I called "Information Please" for everything. I asked her for help with my geography and she told me where Philadelphia was. She helped me with my math. She told me my pet chipmunk, that I had
caught in the park just he day before, would eat fruit and nuts.

Then, there was the time Petey, our pet canary died. I called "Information Please" and told her the sad story. She listened, then said the usual things grown-ups say to soothe a child. But I was unconsoled. I asked her, "Why is it that birds should sing so beautifully and bring joy to all families, only to end up as a heap of feathers on the bottom of a cage?"

She must have sensed my deep concern, for she said quietly, "Paul, always remember that there are other worlds to sing in." Somehow I felt better.

Another day I was on the telephone. "Information Please."
"Information," said the now familiar voice.
"How do you spell fix?" I asked.
All this took place in a small town in the Pacific Northwest. When I was 9 years old, we moved across the country to Boston. I missed my friend very much.

"Information Please" belonged in that old wooden box back home, and I somehow never thought of trying the tall, shiny new phone that sat on the table in the hall.

As I grew into my teens, the memories of those childhood conversations never really left me. Often, in moments of doubt and perplexity I would recall the serene sense of security I had then. I appreciated now how patient, understanding, and kind she was to have spent her time on a little boy.

A few years later, on my way west to college, my plane put down in Seattle. I had about half an hour or so between planes. I spent 15 minutes or so on the phone with my sister, who lived there now. Then without thinking what I was doing, I dialed my hometown operator and said, "Information, Please." Miraculously, I heard the small, clear voice I knew so well, "Information."

I hadn't planned this but I heard myself saying, "Could you please tell me how to spell fix?"
There was a long pause. Then came the soft spoken answer, "I guess your finger must have healed by now."
I laughed. "So it's really still you," I said. "I wonder if you have any idea how much you meant to me during that time."

"I wonder", she said, "if you know how much your calls meant to me. I never had any children, and I used to look forward to your calls." I told her how often I had thought of her over the years and I asked if I could call her again when I came back to visit my sister.

"Please do," she said. "Just ask for Sally."
Three months later I was back in Seattle. A different voice answered "Information."
I asked for Sally.
"Are you a friend?" She said.
"Yes, a very old friend," I answered.
"I'm sorry to have to tell you this, she said. Sally had been working part-time the last few years because she was sick. She died five weeks ago."

Before I could hang up she said, "Wait a minute. Did you say your name was Paul?"
"Yes."
"Well, Sally left a message for you. She wrote it down in case you called.
Let me read it to you." The note said, "Tell him I still say there are other worlds to sing in. He'll know what I mean."

I thanked her and hung up. I knew what Sally meant.

* Anonymous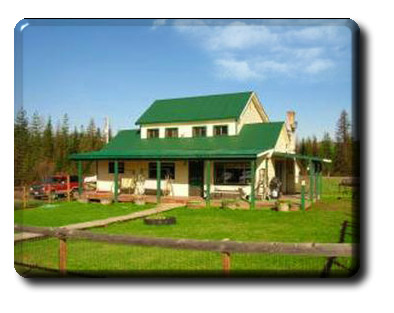 Mother in Law Quarters
Filled with history and country charm. 5 bedroom 2 bath on 17.5 acreswith a year round creek. Horse back riding or snow mobiling in your yard. 360 degree mountain views. In Idaho right on the border of Montana. Easy year round access. Enjoy the elk and deer in your front yard. Older home with lots of possibilties here! Perfect for a large family, boarding school, group home, or dude ranch. Seperate entrance for a mother in law quarters at an affordable price. $330,000. Seller is motivated and willing to look at all offers.