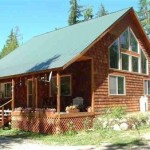 386 Uppaway  
Sandpoint, ID 83864
5666662 

Description:
New on the market. Well built 1240 sq ft home on 20 acres. Den could make second bedroom. Very usable well treed property borders creek filled pond. Wildlife galore! Neighbors are seasonal and range between 960 acres to 25. Covered rv parking, wood shed, tree house and shooting range. Bring the horses.
 

Details:
Bedrooms:
2
Bathrooms:
1.0
Property Type:
2 Story
Square Feet:
1240
Rooms:
7
Outdoor Space:
Deck
Acres:
20.00
Built:
2002
School District:
Lake Pend Oreille

Financials:
Listing Price:
$299,000
Taxes:
$932
Putting Warner Springs back in Native hands.  More than 100 years after government agents marched the tribe out of its ancestral village, San Diego County California Pala Indian band is getting it back.  Using $20 million in profits from its casino to buy what is now known as Warner Springs Ranch.
On state Route 79, 65 miles from downtown San Diego, the 2,522-acre resort features its namesake hot springs, horse trails, a golf course, a landing strip, tennis courts, a dining hall and 250 bungalows, including 17 adobe casitas in which the Pala's ancestors lived. Located next to the tribe's old cemetery and a small church built in 1830 by missionaries to the Indians.
Purchasing the ranch seemed out of reach for years. Pala began to set money aside for the purchase in 2001, after opening the casino on state Route 76, hoping to regain what it lost at gunpoint following a U.S. Supreme Court decision.  "We're going to keep it the way it is and run it like a business, make it successful," said Pala Chairman Robert Smith. The Pala tribe plans to continue operating Warner Springs as a resort, noting that the tribe is already in the hospitality business through its casino.
The vast majority of the 900 or so Pala tribal members consider themselves Cupeños, meaning they trace their history to the place they know as "Cupa," where their ancestors lived for centuries near a bubbling hot spring northwest of Julian. Many recall relatives who, in 1903, were uprooted and marched 39 miles in three days with all their belongings to the Pala Indian Reservation. By order of the federal government, they joined the Luiseño Indians living there.  The Pala consider that federal action their own "Trail of Tears," a reference to the removal of about 16,000 Cherokee from the Southeast to what is now Oklahoma in 1838. Thousands died during the trip and as a result of the relocation. In the Cupeños' case, the U.S. Supreme Court ruled in 1901 that they didn't have title to the land they had long occupied. The court ruled the title belonged to John G. Downey, a former California governor and successor to a 48,000-acre Mexican land grant given to an Easterner named Jonathan Turnbull Warner.  In the 1980s, San Francisco hotelier and developer A. Cal Rossi turned the ranch into an ownership resort, with those who bought having the ability to stay and the responsibility for part of the upkeep.
In the ensuing years, the stagecoach stop became a Hollywood hangout, with celebrities such as writer F. Scott Fitzgerald and actors and directors including Charlie Chaplin, Clark Gable, Spencer Tracy and John Wayne spending time in the resort's adobe casitas and near pools filled with water from the natural sulfur springs.
  Congratulations to the Pala tribe for regaining their homeland.
Home for sale in Warner Springs
The fish are jumping.
Call 208-266-0525

or contact

Waterfront Cabin on Clark Fork River

Vacation rental
Relaxing accommodations

Fully equipped kitchen, covered deck with panoramic river view, boat launch (ramp)

Wireless internet

Designed for 2

Kids welcome
Pet friendly lodging

Riverfront retreat near Sandpoint, Idaho

6 miles upstream of Lake Pend Oreille and
3 miles west of Montana state line on Scenic Hwy 200

$125/night
Huckleberry Tent and Breakfast
Old-fashioned canvas tent cabins with all the comforts of a Bed and Breakfast located outsice of Clark Fork, Idaho.

Enjoy campfires, mountain views, stars, nature trails or just getting back to the simple way of life.

Serenity abounds with no electricity, video games, tv, internet, or other modern distractions.
Open April 15 – November 15
Check in 3 pm, Check out 11 am
For reservations call (208)266-0155 info@huckleberrytentandbreakfast.com

Looking for lodging, be sure to visit the Huckleberry Tent and Breakfast website for a great back to nature vacation.
Silverhawk's Creations of Clark Fork Idaho just launched new gemstones for this week. I hope you enjoy.
Pilbara jasper

 

Tube agate

 

 

Blue opal

 

 

Laguna agate

 

 

Bruneau jasper

 

 

Turquoise

 

Wave dolomite

 

Botswana agate

 

Ocean jasper

 

 

Butterfly wing jasper

 

 

Mawsitsit jade

 

 

Marra Mamba tigereye

 

 

Ammonite

 

 

Nipomo marcasite

 

 

Agua Nueva agate

 

 

Cherry Creek jasper

 

 

Ocean jasper

 

 

Charoite

 

Pilbara jasper

 

Chinese turquoise

 

 

Imperial jasper

 

 

Australian lace agate

 

 

Ocean jasper

 

 

Royal Sahara jasper

 

 

Graveyard plume agate

 

 

Horse Canyon agate

 

 

Carey plume agate

 

 

Tourmalated quartz

 

Variscite

 

 

Botswana agate

 

 
BIRD AVIATION MUSEUM – WASP CELEBRATION – July 15-18, 2010
SCHEDULE (Tentative)
Thursday, July 15, 2010 – Early Arrival if desired
Friday, July 16, 2010 – VIP DINNER

5:30 p.m. Hors d'oeuvres
6:00 p.m. Hawaiian Luau with a special program in your honor.

Saturday, July 17, 2010 – FLY-IN

FLY IN starting at 9:00 a.m hosted by NW Chapter 99s, Experimental Aircraft Association, Volunteers of the Bird Aviation Museum and Invention Center, Friends of Sandpoint Airport and the Spokane Antique Airplane Community.
10:00 a.m. Special "unveiling" ceremony in honor of WASPS and all women who have served our country.
10:30 a.m. – 1:30 p.m. WASP to meet and greet the community. Tell stories, share your lives, educate guests both young and old. Lunch hosted by Shriners and the Community Assistance League.
6:00 p.m. Dinner in honor of you and other WASPS to include family and friends. This will be a wonderful opportunity to reminisce and have fun!!!!!

Sunday, July 18, 2010 – Suggested Departure
---
Background
Sagle museum to honor WWII-era women pilots. The Bird Museum located in the mountains of North Idaho overlooking beautiful Lake Pend Orielle will host the event Women of Courage 2010 to honor WASPS (Women Airforce Service Pilots) and all women who have or are serving in the U.S. military.
More than 1,000 women were trained as aviation cadets, which enabled the male pilots to serve where they were needed most – in combat. The women were civilians who received approximately 27 weeks of training and flew of 60 million miles combined. 38 women lost their lives and it was not until 1977 that they received verteran status. After the WASPs were disbanded in December 1944, the women's military records were sealed and not opened until the 1980s the records were declassified, On Saturday these women will be honored in a special tribute hosted by the Bird Aviation Museum and Invention Center in Sagle, just south of Sandpoint.
For additional information you can see the museum website at www.birdaviationmuseum.com
The 99's, Shriners, EAA, Friends of Sandpoint Airport, Spokane Antique Aviation Community, the Community Assistance League will all be involved and it will be fun. This event will give the WASP time to be together and simply have fun (Friday and Saturday nights) plus a meet and greet to the community. At least 20 of the still living 300 female piolets will be in attendance. Please come out an honor our women pilots.
If you have any questions, call 208-255-4321 X 223. Pamela Riddle Bird
Jacey's Race is a community event to help local families with children currently being treated for cancer or other life threatening illness. Jacey's Race is a timed 5K running race for persons of all ages, with prizes for the top three competitors of various age groups. There will also be a 1K walk/ fun run for children and parents that will not be timed. Lots of activities like face painting, clowns, balloons and door prizes. Jacey's Race is free for children 12 and under! The race is staffed entirely by non paid volunteers. Via sponsorship and race entry fees, money will be raised to go primarily to families of children with cancer or life threatening illness, with gifts to Community Cancer Services, the Sandpoint Chapter of Wishing Star, and the Pediatric Department at Bonner General Hospital in Sandpoint.
Sunday July 11th, 2010
Registration begins at 7 5k
Race Begins 8:30 AM 1k
Race Begins at 9:15 AM
Via
Brad Andersohn ~ Community Manager (ActiveRain)
:
The Top 50 Google Tools for Business

This compilation is for all of you out there who use Google for searching and SEO, but may not be aware of all the other tools and services that Google has to offer for your business. My inbox used to get so many questions about many of the links and tools below, it seemed like a good idea to bring them all into a single location for your review and use.

I know you'll find some of this information helpful or useful to you and your Business.

Google Alerts – Get email notifications from any keyword or phrases used on the web.
Google Buzz – Start and share conversations about the things you find interesting.
Google Blog Search – A sophisticated way of searching the web specifically for Blogs.
Google Books – Google has a ground-breaking agreement with authors and publishers.
Google Business – All of Google's On-line Business solutions for small and large Business.
Google Checkout – Find it online, purchase it with Google's Checkout tool.
Google Chrome – The fastest and cleanest Web Browser for PC's and MAC's.
Google Custom Search – Create your own custom search engine for your Website/Blog.
Google Desktop – Take control of PC or MAC Desktops, find anything faster and easier.
Google Dictionary – Don't knock it till you try it, watch out Webster.
Google Directory – The Web organized by Topic and placed into Categories.
Google Earth – Explore and share the World in 3D. Add your photos and Videos.
Google Finance – Track and Edit your Portfolio, Charts, and Graphs.
Google 411 – Dial Directory Services and Information from any phone for FREE.
Google Health – Organize all your medical records and store them on-line.
Google Images – The Ultimate Image search on the Internet.
Google Maps – The best way to map out directions and share with others.
Google News – All the news you'll ever need and find in one location.
Google Patents – Every US Patent is search-able with the full text.
Google Product Search – Find any product in one location instead of searching sites.
Google Scholar – Looking for a specific paper or Scholarly articles, find them fast.
Google Toolbar – Allows you to add search, share, and contribute to your fav browser.
Google Trends – For those who want to know details about search engine trends.
Google Videos – Used for searching only Video and Vlogs on the Internet.
Google Web Search – Still the #1 search engine tool with the #1 advanced features.
Google Web Search Features – The best search tool for movies, music, books, etc.
Google Code – This is a developer tools, used for APIs and other resources.
Google Labs – One of the best Online Tech Playgrounds on the Web.
Google Blogger – Create your own Blogspot Blog, it's easy and free.
Google Calendar – Setup and use a Global Calender that you can share with others.
Google Docs – Create spreadsheets, presentations, documents, and more.
Google Groups – Use Groups to connect with others and share ideas and discussions.
Google Knol – Write a Knol and Share what you know with others. Learn too.
Google Mail – Google mail has so many great features for email, and it's FREE.
Google's Orkut – It's a Google Social Network, stay connected with others.
Google Picasa – Upload and store, find, and share your photos and images.
Google Picnik – The newest online Photo and Graphics editing addition to Google.
Google Reader – Delivers everything you want to know from the web back to you.
Google Sites – Create your own websites and group wikis for private or public use.
Google SketchUp – Allows you to Design, Build, and Create 3D models and images.
Google Talk – Talk to friends, send IM's, communicate with others via computer.
Google Translate – Helps you and visitors to view any site in any language.
Google's YouTube – The second most searched site in the World. Youtube.com.
Google Mobile – Take Google on the Road, & don't leave home without your phone.
Google Maps for mobile – Just as good as GPS, view maps, directions, get un-lost.
Google Search for mobile – Search the web from your phone anytime from anyplace.
Google Pack – Get the entire Google Pack for your PC or MAC.
Google Voice – The best way to manage phones and services FREE. (invite only)
Google Wave – The future of email and real time collaboration. (invite only)
Google Wonder Wheel – A Wonderful Wheel of relavant search terms.

Take a few minutes to explore what some of these great tools can do for you and your business, then make sure you keep an eye on Google in the future, their development team creates and produces new products at the speed of light.

Did I miss any? Do tell! What is YOUR favorite NEW Google Tool or Product?

Stay on top of everything Google is Doing – GOOGLE

Download The ActiveRain "HELP" Toolbar for your Browser

ActiveRain University Calendar Real Estate RainCamp The ActiveRain Manual
FHA Pros, LLC, a national FHA condo approval service, has developed a list of facts speaking to the top misconceptions associated with FHA loans in order to help home buyers better navigate an already confusing market. FHA loans are mortgages issued by qualified lenders and insured by the Federal Housing Administration (FHA).
"We have seen home buyer interest in FHA loans go from practically zero three years ago to upwards of 87 percent today," said Christopher Gardner, founder and president of FHA Pros, LLC. "Despite this rapid rise in popularity, many buyers still do not fully understand the benefits of these loans, and we believe it's time to change that."
1. FHA Loans Are Not Only For Lower-Income Borrowers. FHA loans are available to everyone. In fact, even Bill Gates can get one. There is no maximum income restriction associated with FHA loans. Borrowers do need to substantiate income and assets by submitting proper documentation. This requirement ensures that borrowers are well-vetted and truly able to afford their future homes.
2. FHA Loans Are Not Only For First-Time Buyers. Many people believe FHA loans are available only to first-time homebuyers. This is not the case. Whether borrowers are making their first home purchase or their fifth, they can look to FHA loans as a home financing option.
3. FHA Loans Are Not Just Small Loans; In Fact, Loan Amounts Can Be As High As Almost $800,000. The government recently raised the maximum loan amount from its original cap of $362,790 to $793,750 as a way to help stabilize the housing market. The amount a buyer can borrow varies from county to county. Later this summer, condo buyers interested in FHA loans can visit www.checkfhaapproval.com to instantly identify FHA-approved condo associations and review maximum loan amounts for a given location.
4. FHA Loans Are Not Affiliated With The Section 8 Housing Program. While both programs are administered by the U.S. Department of Housing and Urban Development (HUD), FHA loans have nothing to do with low-income subsidized housing. FHA loans are simply mortgages insured by FHA. This insurance provided by the federal government allows lenders to lend more freely by assuring them that they will be repaid in the event of default. Most traditional lenders, including Wells Fargo & Co., JP Morgan Chase and Citigroup are able to provide FHA loans to their customers.
5. FHA Loans Are Often More Affordable Than Conventional Loans. While FHA loans typically offer the same interest rates as other loans, borrowers benefit from a much lower down payment of as low as 3.5 percent.
6. FHA-Approved Condo Developments Are More Desirable To Buyers. With 87 percent of home buyers indicating that they plan to use FHA loans, condo associations that are not FHA approved are missing out on a significant pool of prospective buyers. Under rules in place since February 2010, an entire condominium development must now apply to HUD and be granted FHA approval before a buyer can purchase a unit in an association with an FHA loan or before an existing unit owner can refinance into an FHA loan.
Due to the general unwillingness of today's lenders to extend credit with respect to conventional loans, many borrowers find that FHA is their best bet. Lenders don't mind lending when the federal government (FHA) assures them of repayment.
Homeowners associations (HOAs) should note that although FHA-insured mortgages might be easier to obtain, they are not "risky" loans, due in large part to the strict "full documentation" requirements placed on borrowers.
Individual buyers or sellers can initiate the approval process or current owners can encourage their HOA to apply. More information about the FHA- approval process is available at www.getfhaapproval.com.
7. FHA Loans Are Assumable. In addition to lower down-payment and credit-qualifying requirements as compared to conventional loans, FHA loans are assumable. This means that when a seller with an FHA loan sells his or her property, the loan and its financing terms (interest rate) can be transferred to the new buyer. This unique feature will certainly make a property more valuable in times of rising interest rates.
"Now, more than ever, buyers and sellers need to understand the options available to them when it comes time to buy a home," continued Gardner. "At FHA Pros we have worked with countless HOAs, attorneys and individuals to easily and efficiently navigate the historically tricky FHA-approval process."
by RIS Media
Via
Keisha Hosea- Realtor, Chino Hills, CA (Keller Williams Realty Chino Valley Market Center)
:
Mortgage Assistance Available For Unemployed

The Home Affordable Unemployment Program (HAUP) started July 1, 2010. It will provide homeowners a forbearance of monthly mortgage payments, either reducing them or suspending them for at least three months. Servicers can extend the timeline depending on regulatory guidelines.

Some guidelines for qualification include:

1. Homeowners have a first-lien mortgage originated on or before Jan. 1, 2009.

2. The unpaid principal balance on a single-unit primary residence must be equal to or less than $729,750

3. The mortgage has to be in default or in imminent default.

4. Those who have already gone through the Home Affordable Modification Program (HAMP) process are not eligible for the HAUP.

For the full story go to http://www.housingwire.com/2010/07/02/treasury-launches-new-mortgage-help-for-unemployed-in-july

Keisha Hosea is a local Market Expert and Realtor in Chino Hills, California with Keller Williams Realty, She is the Team Director and CEO of KASI Homes. Keisha Hosea and the KASI Homes team offer help to home buyers and home sellers throughout the Inland Empire. With a Master of Arts Degree in Marriage, Family and Child Counseling, Keisha has worked extensively with families and couples during difficult and transitional times. KASI Homes is the place where you find Real Estate with a passion for Real Life Solutions. For more information call direct at (909) 261-6377. Visit the website at http://KASIHomes.com

Keisha Hosea, Realtor

DRE #01489430

KASI Homes–Keller Williams Realty