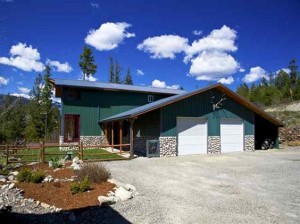 Enjoy the benefits of a waterfront home on a private lake minus the high price! This custom 4 bed/ 3 bath home has stunning interior finish work using cedar and extensive rock work. Large open rooms, oversize doors, windows and ceilings as well as natural elements and log highlights help bring the beauty of North Idaho inside! Very large kitchen with custom cabinets, as well as slate, tile and butcher block.Big 50×50 shop. Bring your fishing rod because this lake boasts trophy bass!
SOLD
 

Short Sale Agent Update:
Changes to HAFA Program*

 
 
 
 
 

On Aug. 9, the U.S. Department of the Treasury released Supplemental Directive 11-08: Home Affordable Foreclosure Alternatives Program (HAFA) – Policy Update containing updates to the program. Bank of America fully implemented these changes effective Oct. 15.

Policy enhancements impact agents and borrowers:

An FAQ clearly defines program criteria and rules. Borrowers can access the information from the Home Loan Assistance website at bankofamerica.com/homeloanhelp by:

Navigating to the Next Steps section or selecting Frequently Asked Questions from the Additional Supportarea.
Look for the "If my mortgage is not owned by Fannie Mae or Freddie Mac…" question and select Home Affordable Foreclosure Alternatives Policies.

Subordinate lien cap of $6,000 does not apply to non-mortgage subordinate liens; however, a portion of the gross proceeds may be negotiated toward payment of the non-mortgage subordinate liens.
Defined process for property re-evaluation and for requesting value reconsiderations.
Borrower relocation incentive may be used to pay transaction costs.

Action requested: View the HAFA 11-08 Enhancements and FAQ.

*Please Note: This guidance does not apply to mortgage loans that are owned or guaranteed by Fannie Mae or Freddie Mac, insured or guaranteed by the Veterans Administration, the Department of Agriculture's Rural Housing Service or insured by the Federal Housing Administration.

Visit the Agent Resource Center at bankofamerica.com/realestateagent for educational guides, news and resources to help agents complete a short sale at Bank of America.