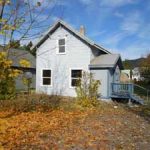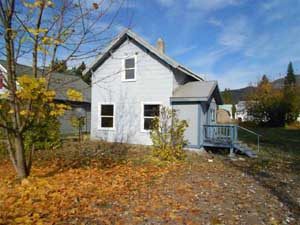 Congratulations Nancy. After selling your home in Dover I was so happy to be able to find you this home in Clark Fork. This 2 bedroom 2 bath that you visited in your youth was completely remodeled last year with plenty of upgrades and everything sparkling and new. I am so very happy for you.
Ask me about Keller Mortgage Zero Plus Loan.  Zero lender fees.
Proud Member Of Associate Leadership Council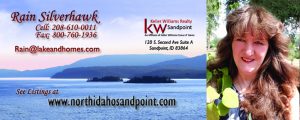 My continued success is  due to people like YOU!
http://www.sandpointlisting.com
http://www.northidahosandpoint.com
https://www.facebook.com/NorthIdahoRealEstate?ref=hl
30 Years Ago Today I got my first
real estate licence.
Yep thirty years ago and thankfully I can also say I was young when I started. smile
Looking back it reminds me of stories my grandmother will tell about coming outwest in a covered wagon.  When I started in real estate there were no computers. Listings were printed in thick mls books every 2 weeks and half the time we sold the home before the books came out. Contracts were sent out via snail mail and everything took at least a week to get back to us. We had special round keys for the lock boxes and the threat of jail time and huge fines if we lost the key, because every single lock box had to have the lock changed. The average house sale was under 50k and being in the million dollar club was a BIG deal. It was not uncommon for buyers to assume or take over existing financing. Just about every sale involved a creative wraparound financing and It was a perfect solution to sell a home in a rough market. There were no loan origination fees or points, and buyers were often willing to pay a little higher for a home that had an assumable loan. I remember having a huge celebration the first time we got a buyer a cheap 13% loan. All property inquiries went to the office and agents had floor time, slots to take all the incoming calls. Those agents got all the leads coming in during their time and took messages for the other agents. It was before cell phones so for the first decade I would put my dime in payphone to collect messages and call everyone back. The office had a Mimeograph machine for the first year and then we upgraded to a copy machine. WOW!
Fast forward through the stage of big bulky car phones, fax machines, pagers. Finally we had one computer that could pull a printout of the listings that we could look at and write down notes.
Thankfully I am a dinosaur with mad computer skills! Finally came emails, scans, websites, listing syndication, computerized listing searches, social media, blogging. We can fly over properties and send aerial views to our clients.  We post on facebook, google plus, pinterest, linked in and our blogs so that our clients can find us and know us before ever meeting us face to face. We have smart phones, that pull up listings, scans documents, lets our clients sign on our tablets, and text for quick information.  I would be a little lost these days without my computer and wonderful online communities likeActive Rain
It has been quite a journey and I am going to try for 30 more!!!
Are you looking for a real estate professional with plenty of experience?  Call Rain Silverhawk
My continued success is  due to people like YOU!
http://www.northidahosandpoint.com
https://www.facebook.com/NorthIdahoRealEstate?ref=hl
113 Carter Dr Sagle Idaho 83860
Short sale opportunity! Single level ranch styled 3 bedroom with an office and 2 car garage situated on 1 acre in Sagle. Open floor plan graced by arches and cathedral ceilings. Gourmet kitchen with alder cabinets, large laundry room, huge private en-suite master office with built in, gas fireplace, energy efficient heat pump, water filtration and softening system. Enjoy the out doors on the 3 covered trex decks or sitting around the fire ring. Beautiful treed lot, storage shed, play set with a quiet neighbor hood close to town while still providing a touch of nature. Come see this home today by calling Rain Silverhawk 208-266-0011
Active Rain member PATRICIA KENNEDY has a new challenge question for the month of October.  Your Best Advice for Real Estate Newbies 
When I entered real estate in the 80s it was a much different world. There were no computers, listings were published in a book every two weeks, everything was a wrap around loan and the first time I got someone with a low 13% interest rate we celebrated. The world of real estate sales is constantly evolving but there are a few tried by fire things that will always hold you in good stead.
Be consistent. Figure out what works and keep at it.
Be well organized. Pick a system and use it.
Never miss an opportunity.
Don't be shy put yourself out there.
Educate yourself. You can learn from everyone around you and each transaction.
Network with your peers and be someone they want to work with.
Work hard and ask questions
Take time for yourself and avoid burnout
ANSWER your phone and emails
Get listings, Get Listings, Get Listings
The best piece of advice for a newbie agent though came from my very first broker. He told me that no matter what direction I decided to take put myself in my clients shoes. To this day I use that sound advise whether I am working with a seller a buyer, negotiating a short sale, running property management, selling commerical real estate or networking with an agent.
Think about it have you ever caught yourself being too self involved? Had that feeling that the other guy didn't know what he was talking about. Annoyed at that darn lender following the rules? Being anxious that a buyer just can't pick one?
If you are selling a house stop and consider what the seller is feeling. We are talking about one of the most expensive assets this person owns. This is their home and it is more than 4 walls and a price tag. They of course will be worried about the money end of things, but their are a whole host of things running through their minds. They are letting strangers into their home, a stranger take care of the details of one of the most important life events they will ever have. They are leaving behind memories, trying to figure out the logistics and under alot of stress. If it were your home what would your gut reaction be if you had to deal with any of these items.
1. We have clients 5 minutes away and want to show your house.
2. We showed your house yesterday and the clients couldn't overlook the mess or the smell.
3. The showing went great and they are putting in an offer for $20,000 less than your bottom price.
4. The escrow is going nicely and I know you said you didn't have any money but there are a few repairs you need to complete. It should only be about $10,000 to do.
5. The buyers are moving from out of state and want to close early can you be ready to move by Tuesday?
While as an agent we make these calls all the time, stated a little less harsh of course but the rough version is what the seller is actually hearing. I could easily be sent into flip mode, how about you?
How about the buyer that is ready to put their life savings into the down payment and give their entire life story to a lender. What types of things would run through your head if you were buying.
I called the agent 5 times and still can not get them to call me back with details on that property.
I said I could spend $200,000 and the agent keeps sending me $500k homes.
What is wrong with the house.
Am I making the right choice.
The lender is asking for information that I already sent them 3 times.
I have to figure out the logistics of moving from one house to the other.
Moving is a pain.
I am scared to death and want to do it right.
What do you mean the renters won't let us see the house for 24 hours?
How much money do I have to put down?
I like the house but what about the location, where will the kids go to school, how far from work is it, what is the lay of the land, what are the taxes, will I like living there, is it safe, is this a good investment, will I be sorry. I have a thousand questions how will I get the answers?
No matter what your clients needs are there is a roller coaster of emotions, definate needs and a list of wants and they need you to care about what they are going through and help them negotiate through the process. Put yourself if their shoes, how would you want to be treated? If you do everything that you would want done for you, then you will always take care of your clients well and you will be successful.
Clark Fork residents come sign up to show your interest in having a food co-op brought to your hometown.
The Co-op offers a produce basket of fruit and vegtables very other week. The monetary contribution is $15.00 and is generally worth approximately $50.00 retail. They are now offering Organic baskets for a contribution of $25. In order to have a new food co-op site in Clark Fork Idaho they need another 75 people to sign up at the Monarch Market, The Conoco station, Hays Chevron. You will also be asked to start a new account on the on the website at http://bountifulbaskets.org to show your interest. (If you live in another state you can see basket drop off sites in your area or show that there is an interest in your area.
To participate visit http://bountifulbaskets.org and check the schedule to see when your state is available.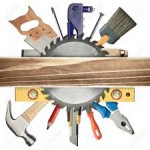 What do Realtors do for their clients and how can Brivity help agents update their clients?
I came across this Active Rain article entitled: "I've NEVER heard a buyer or seller say their agent contacted them TOO MUCH!" Wow, that's such a profound statement! One of the biggest complaints from buyers is that they never hear from their agent, and were left in the dark. The article inspired by the impressive work of Ben Kinney introduces Brivity,  which is a CRM and advertising platform for real estate transactions. So, what do real estate agents do for their clients and just how much of what we do actually gets communicated to our clients? No doubt, that second part really is the hard part.  
So often our real estate clients do not have a clue as to what most real estate agents do each day on their behalf. Why would they? We don't always tell them as we usually have our hands full doing the work.  I normally have anywhere from 18-50 listings and a large data base of buyers. I can certainly see how a system like Brivity could be very usefull in helping me keep my clients updated.  
If you were to ask the average person what a real estate
agent does, most would tell you that they put a listing in the
MLS, a sign in the yard, and then show potential buyers
houses. Our jobs would be pretty easy if that was all there
actually was to it. 
One of the biggest complaints from sellers on expired listings is that the agent put up the sign and then they never heard from the agent again. Buyer's complaint is that they call for information and never get a call back.
Let's go through a few hundred of the highlights of what I do for my buyers and sellers.
What I do for a Buyer
First contact:
1. This can come in many, many forms. It might be an email or phone call asking a specific question about a property. A buyer may be randomly calling real estate agents to find one they like, or it might be a referral from a friend. It could even be a conversation in the checkout line at the grocery store. No matter when or how you found me, I am ready to do everything humanly possible to help you find the perfect property.
2. Ask questions to determine what your wants and needs are in a home, what price range we'll be looking at, and the logistics & time frame for purchasing.
3. The vast majority of my clients I work with on the internet long before they ever come to Idaho and meet face to face. This is an excellent way for Buyers to weed out the homes that won't work for them, and find the ones that they do want to see. It also helps me to really get to know Buyers and zero in what will make them truly happy.
4. Generally, a Buyer has a million questions about areas, weather, amenities, shopping, roads, schools, medical care and hospitals, etc. I always encourage Buyers to ask plenty of questions so they can make an informed decision.
5. Determine how much Buyers can realistically afford. I will direct them to talk with several lenders to get a pre-approval letter so we can find the perfect home that they can afford to fall in love with.
6. Explain how it is not in the Buyer's best interest to work with multiple agents.  (Or the agents for that matter)
7. Ask if a potential Buyer has a home or other property that must sell prior to purchase.
8. Discuss areas in which a Buyer would like to begin looking.
9. Ask what their dream home is and see how close I can get.
10. Give buyers the "Blue Brochure" and explain the  agency disclosure.
11. Do computer research to find homes that meet Buyers' parameters.
12. Pull aerial maps for any homes they find interesting.
13. Answer questions about specific properties or areas.
14. View homes and get a feeling for what does and doesn't appeal to them.
15. I often take video tours for out of state clients.
16. Talk to For Sale By Owners for possible showings.
17. Talk with other Agents about any pocket listings that may be available for showings.
Before showing day:
18. Prepare a list of properties to see in person.
19. Print off aerial maps, plat maps and property reports.
20. Preview homes, if possible.
21. Make appointments to show the homes.
22. Print off listings to hand out to clients.
23. Map our route for the day.
Showing day:
24. We can usually narrow down the list of possible properties to under ten. There is no magic number; we might see 3 homes or 50. If and when we walk into the right one, they will know it.
25. At each home, I will give them the listing sheet and encourage them to make notes of their own. By the end of the day, the homes will start running together, and those notes will be a big help later on.
After the Buyer finds a house they like:
26. Print a map of property.
27. Pull the property tax records.
28. Pull any old MLS listings.
29. Research the property's current use and zoning.
30. Research and verify the legal description of the property to include with an offer.
31. Pull comparitive Active and Sold Listings.
32. Analyze the "Days on Market" for similiar properties.
33. Prepare Comparative Market Analysis.
34. Print location map of comparative listings.
35. Pre-negotiate with the other Agent before writing up a contract.
36. Request all disclosures for the listing.
37. Discuss Comparative Market Analysis with the Buyer.
38. Discuss offer and pricing strategy.
39. Sign Seller's Property Disclosure.
40. Complete Lead-Based Paint Disclosure.
41. Discuss availability of Homeowner's Warranty.
42. Get copies of leases, if applicable.
43. Ask for floor plan, and supplimental  list of amenities.
44. Discuss the terms of the offer.
45. Read and explain the documents to Buyer and answer any questions.
46. Sign the completed offer and all accompanying paperwork.
Contract negotiations:
47. Discuss Buyer's financial qualifications and needs.
48. Discuss exclusions, dates, and details with the other Agent.
49. Review Contract Addendums.
50. Negotiate the offer and options.
51. Convey pre-qualification letter.
52. Sign offer or reevaluate offer, if needed.
53. Prepare and convey any Counter Offers, acceptances, or amendments.
54. Track acceptance deadline time.
55. Renegotiate contract items as needed.
56. Receive signed Contract or Counter Offer.
57. Discuss options with Buyer.
58. Once accepted, make applicable copies.
59. Convey signed copies to the other Agent.
After the contract is signed by all parties:
60. Make copies of all documents for the Buyer, office, and seller's Agent.
61. Make copy of Earnest Money check.
62. Deliver check to title company and receive receipt.
63. Send copy of receipt and earnest money check to office.
64. Convey Contract to Mortgage Lender.
65. Convey Contract to Title Company.
66. Open Escrow.
67. Do necessary paperwork follow up.
68. If Seller and Buyer are both my clients, set listing for pending.
69. Make copies of leases and damage deposit receipts, if applicable.
70. Notate important dates on Calendar.
71. Have Buyers review and sign the Property Disclosure.
72. Obtain any necessary Inspections the required time frame.
73. Make all parties aware of the Resolution Deadline.
74. If Title is to be taken in the name of a Trust, obtain a copy of the Trust document.
75. Review all paperwork for signatures.
76. Advise Buyers to postpone any large purchases while going through the loan process.
77. If clients are from out of state, get instructions and addresses.
78. Notify Title Company of Mail out.
79. If Power of Attorney is needed, get originals signed and notarized to Title Company.
80. Remind Buyer to notify Utility Companies to start service.
81. Discuss what happens if other offers come in between Contract and Closing.
82. Is Buyer's current house on the market? If so, resolve any timing issues.
83. Resolve any Title Disputes.
84. Resolve any Off Record matters.
85. Mail change-of-address forms to Buyer.
86. Coordinate closing time with Buyers, Sellers, and Title Company.
87. Verify closing date and time, and make all parties aware of it.
88. Mail time-verification of closing and directions to Buyer.
89. Assist in solving any Title problems, such as boundary disputes, easements, etc.
90. See to any cleaning needs upon move-out.
91. Discuss mover time-frame for move-in with Buyer.
92. Receive list of completed repairs and maintenance items Seller has completed.
93. Verify that appropriate permits were pulled.
94. Verify HOA fees and disclosures, if applicable.
95. Calculate average utility usage for the last twelve months.
96. Return all phone calls.
97. Add daily activities to calendar.
Home Inspection:
98. Set up all Inspections.
99. Coordinate time with Seller, Agents, Buyer, and Inspector(s).
100. Review home inspection report(s) with Buyer.
101. Help Buyer negotiate Inspection Contingencies.
102. Assist Buyer in obtaining repair estimates or a credit at closing.
103. Add a copy of Inspection Contingency Release to file.
104. Verify prior to closing that all repairs have been performed.
105. Get copies of all repair receipts.
Appraisal:
106. Set up appraisal.
107. Coordinate time with Seller, Agents, Buyer, Appraiser.
108. Send appropriate comparable sales to Appraiser.
109. Verify Appraisal has been completed and is satisfactory.
110. If the Appraisal is low, discuss options with the Buyer.
111. Discuss any conditions on the Appraisal with the Buyer.
112. Schedule final inspection on Appraisal conditions, if applicable.
113. Verify all conditions have been met prior to closing.
Tracking the loan process:
114. Ensure that the condition of the property is appropriate for the type of loan the Buyers are seeking.
115. Make contact with the Lender and verify Buyer information.
116. Confirm loan application deadlines.
117. Contact Lender often to ensure processing of loan approval is on track.
118. Assist Buyer in sending all paperwork to the Lender.
119. Make Buyers aware of "Lock-In" expiration date.
120. Notify Buyer of loan approval.
Closing preparations:
121. Verify with Buyer approximate money needed on closing day.
122. Coordinate Possession Date and time.
123. Prepare disbursement authorizations.
124. Notify Title Company of any extensions.
125. Submit bills and receipts to Closer.
126. Make sure Closer has all addenda, correct price, rents, or applicable credits.
127. Discuss closing figures with Closer.
128. Check final figures for accuracy.
129. Call Buyer and discuss final figures.
130. Remind Buyer to bring a picture ID.
131. Discuss Buyer's need for Cashier's Check or wire transfer.
132. Deal with all last-minute crises.
133. Check file for any unsigned documents.
134. Coordinate this closing with Buyer's sale and resolve any timing issues.
135. Request HUD from Lender/Title Company at least 24 hours prior to closing.
136. Contact Buyer and review HUD.
137. Schedule walk through with Buyer, Buyer's Agent, and Seller.
138. Make phone call to buyer to congratulate them on their new home or property! Hooray!!
So, let's see, what else is there? Well… I have done everything from washing dishes and taking out the trash, to uncovering septic tanks, walking property lines, pulling out my hair, walking the dog during showings, crawling under houses, tracking down leaky pipes, picking up laundry, mending fences, painting, calling everyone from A to Z, and arranging repairs. Oh, and did I mention pulling out my hair?
What I do for a seller
John Doe is ready to sell his house. Yippee! We have a few things to do before we ever actually go to meet Mr. Doe and list his property.
Before the listing: (Most of these steps are not communicated to a home seller but if I do my job right, they soon realize that I have done my homework!)
1. Take notes during and after the first contact with the seller.
2. Prepare and send a prelisting package to the seller.
3. Make an appointment with seller for listing presentation.
4. Analyze the active and pending listings.
5. Research sales activity for the past 12 months from MLS.
6. Research "Average Days on Market" for properties of this type, price range and vicinity.
7. Pull up the property tax roll information.
8. Search out the parcel maps, aerials, subdivision plat.
9. Locate well records or verify water districts.
10. Locate septic records.
11. Find out if gas is available to the property area.
12. Research property's land use coding and any CCRs or HOAs.
13. Research property's current use and zoning.
14. Verify legal names of owner(s) in the property records.
15. Research property's ownership & deed type.
16. Call for legal description.
17. Confirm the nearby schools.
18. Research potential flood zones.
19. Prepare listing presentation package with all the information.
20. Drive by the property to assess the exterior.
21. Assemble a formal file on the property.
22. Prepare "Comparable Market Analysis" (CMA) to establish fair market value.
23. Call or email a confirmation of the appointment.
24. Review listing appointment checklist to ensure all steps and actions have been completed.
Send of a prelisting package.
Listing Day:
25. Give seller an overview of current market conditions and projections.
26. Review agent's and company's credentials and accomplishments.
27. Present CMA Results To Seller, including Comparables, Solds, Current Listings & Expireds.
28. Offer pricing strategy based on current market conditions.
29. Discuss Goals With Seller To Market Effectively.
30. Explain the purpose and benefits of the Multiple Listing Service.
31. Present and discuss strategic master marketing plan.
32. Provide suggestions to improve salability.
33. Explain different agency relationships and determine the seller's preference.
34. Review and explain all clauses in Listing Contract & Addendum and obtain seller's signature.
35. Discuss possible buyer financing options.
36. View the home and property and LISTEN carefully to any input from the seller.
————————–
The listing is signed, and from the seller's perspective, that first day is always a whirlwind of activity.
The agent is taking pictures of the property, measuring rooms, making suggestions, putting "For Sale" signs in the yard, and making keys for the lock box, among other things. The seller is excited that their agent is on the ball and will sell their house. Today would be good, or even tomorrow! They are full of anticipation and hope. Then a few days pass, a week, a month, and they are wondering what is happening. Will my property sell, is there some problem, is that agent even doing anything??? Often the seller is thinking their agent put a great deal of effort into getting my listing, but now what are they doing?
Get Ready, Get Set, GO!!!! Sell that home:
37. Review title information.
38. Measure square footage and room sizes.
39. Prepare the photos for listings and advertising.
40. Place signs.
41. Make keys and install the lock box.
42. Enter listing into two MLS systems in our area.
43. Gather and upload aerial maps and plat maps, well logs, septic records, etc.
44. Send a copy of the listing to the seller for review and approval, requesting that they let me know if there's anything they'd like to add or change.
45. I create a virtual tour and set up weekly visitor reports.
46. Prepare listing for syndication to approximately 3,000 websites.
47. Identify property lines and corners.
48. Review any agreements and easements.
49. Call for any CCRs.
50. Pull any road agreements.
51. Prepare showing instructions to be of assistance to other Agents.
52. Create a flyer for flyer boxes, office windows and bulletin boards.
53. Obtain house plans, when available, and make digital copies.
54. Check assumability of loans.
55. Verify any HOA fees.
56. Order Association Bylaws, if applicable.
57. Verify yearly tax bill.
58. Research electric availability and company name.
59. Calculate average utility bills.
60. Verify city sewer or septic records.
61. If the property is part of a public water system, verify water fees.
62. Confirm well status, depth, and output from well report.
63. Verify if seller has transferable water rights.
64. Research/verify availability of natural gas or propane, and the supplier's name.
65. Prepare a detailed list of property amenities.
66. List needed and completed repairs or remodeled items.
67. Create print and Internet ads.
68. Write local classified ads.
69. Advertise in feeder markets in other cities.
70. Place announcements in employee lounges and bulletin boards.
71. Hold open houses, with Seller's approval.
72. Email at least 50 URLs where listing appears for seller review.
73. Send listing to current clients with an interest.
74. Coordinate showings.
75. Ask for feedback after showings and discuss with seller to determine if changes are needed.
76. Return calls as soon as possible.
77. Send "Just Listed" letters to neighbors.
78. Prepare marketing brochures and make copies.
79. Send listing to referral programs.
80. Submit ads to unsyndicated sites.
81. Reverse prospecting, contact agents to let them know they have a client who may be a good fit for this property.
82. Make regular weekly calls or emails to discuss updates, marketing and pricing.
83. Network with agents to promote the listing.
84. Follow up with agents and buyers.
85 Arrive at your home to turn on the lights, and otherwise make it presentable for showings.
86. Send details of the listing to investor groups.
87. Post on blogs.
88 Post on Facebook.
89 Post on Twitter.
90. Post on Google Plus.
91. Post on eBay.
92. Post on Pinterest.
93. Post on Backpage.
94. Add listing to Biz Buy Sell if commerical.
95. Add listing to KWLS.
96. Determine if the property has rental units involved. And if so:
97* Make copies of all leases for retention in listing file.
98* Verify all rents & deposits.
99* Inform tenants of listing and discuss how showings will be handled.
100* Talk with tenants to find out their needs & wants, and remember to be mindful that I am intruding in their lives.
Short Sales:
101. Choose suitable short sale price.
102. Contact bank to send in third party authorization.
103. FAX in listing information to Short Sale Bank.
104. Retrieve Short Sale package.
105. Help Seller fill out the RMA.
106. Initiate Short Sale offer.
107. FAX or upload RMA and offer.
108. Daily check on Equator System.
109. Communicate with negotiator, once assigned.
110. Provide updated information to negotiator regularly.
111. Secure approval for maintenance.
112. Request winterization when needed.
113. Arrange for state electrical inspectons when power has been off for a year.
114. Arrange for snow plowing, as necessary, to keep access open.
115. Arrange for yard maintenance.
116. Coordinate service contractors.
117. Negotiate Short Sale with bank.
118. Meet deadlines throughout the process.
119. Arrange for authorization for title companies.
120. Arrange for inspectors.
121. Deliver lender paperwork throughout the process.
122. Distribute Short Sale approval letters to lenders, title officers and clients.
123. Update all parties of new requests and/or requirements during the process.
124. Inform buyers of any waiting periods and deadlines.
The OFFER
125. Receive and review all Purchase and Sale contracts.
126. Contact buyer's agents to review buyer's qualifications and discuss offer.
127. Deliver Seller's Disclosure to buyer's agent.
128. Evaluate offer(s) and prepare a "net sheet" for the owner.
129. Discuss the details of the offer with sellers.
130. Confirm buyer is pre-qualified by calling Loan Officer.
131. Obtain pre-qualification letter on buyer from Loan Officer.
132. Negotiate all offers on seller's behalf.
133. Prepare and convey any counteroffers, acceptance or amendments to buyer's agent.
134. Deliver copies of contract and all addendums to title company, buyer's agent and office.
135. Record and promptly deposit buyer's earnest money in escrow account.
136. Record "Under-Contract Showing Restrictions" as seller requests.
137. Send copies of Offer to Purchase contract to lender.
138. Change status in MLS to "Sale Pending".
139. Receive title insurance commitment.
140. Ensure Buyer's have requested insurance binders for their new property.
141. Obtain credit report information for Seller if property will be Seller-financed.
142. Assist Buyer with obtaining financing, if applicable, and follow-up as necessary.
143. Coordinate with Lender.
144. If it's a manufactured home, coordinate foundation inspection.
145. If manufactured is not considered real property, call DMV for transfer.
146. Ensure HUD tags are on mobile homes.
147. Order septic system inspection, if applicable.
148. Receive and review septic system report.
149. Deliver copy of septic system inspection report to the Lender & Buyer.
150. Deliver Well Flow Test Report copies to Lender & Buyer and property listing file.
151. Coordinate Buyer's home inspection with Seller.
152. Review home inspector's report.
153. Recommend or assist Seller with contractors to perform any required repairs.
154. Negotiate payment and oversee completion of all required repairs.
155. Schedule an Appraisal.
156. Provide comparable sales used in market pricing to Appraiser.
157. Follow-Up On Appraisal.
158. Contact Lender weekly to ensure processing stays on track.
159. Relay final approval of Buyer's loan application to Seller.
160. Ensure all parties have all forms and information needed to close the sale.
161. Select when and where closing will be held.
162. Confirm closing date and time, and notify all parties.
163. Assist in solving any title problems (boundary disputes, easements, etc.).
164. Arrange a final walk-through.
165. Review all closing documents carefully for errors.
166. Review HUD 1 for all items.
167. Coordinate this closing with Seller's next purchase and resolve any timing problems.
168. Change MLS status to "Sold". Enter sale date, price, and selling broker.
Once the sale is over, I am still not done:
169. The fun part is that I get to call you and announce that we closed escrow; you now have a new house! I always love this part!
170. I will ask you for a recommendation letter. Over the following months and years, I will enjoy bidding you happy holiday greetings, and checking in every so often to inquire how you and your family are doing. I'll also let you know that I am still selling real estate, in case you'd like to recommend me to your friends or hire me again yourself.
How about an update?
When you listed your home for sale, you wanted it to sell right away. I am often busy chasing down the details and working on promoting your property. If I don't tell you everything I'm doing on your behalf, though, how are you going to know? I do the best I possibly can to take time to contact you with regular updates. None the less, I am going to continue to work on that, striving hard every day to be even better, because I do know it is important.
There are 168 hours in a week yet I feel like I have no time.  I am one of those people that friends are amazed by what I get accomplished all while I am kicking myself for not getting something done.  I am without a doubt a work-a-holic.  I run a business am a real estate agent and I have a family and own a ranch.  The various forms of work  take up alot of time.  I am constantly doing something yet at the end of the day I always see 20 things I wish I could get done.  Maybe if we just had a  200 hour  week.
So have you ever asked yourself, where does all the time go? Even more importantly were you able to answer that question?  In many ways I wish I could be more productive and in other ways I wish I could find enough time to have a little me time.  How about you, if you take a really good look at how you spend your 168 hour week you might just have more time than you think.
I used a couple of online tools to help me figure out where my time goes.  http://www.toggl.com lets you put what you are doing and start a timer on your activity.  Ironic that I probably spent an extra 20 minutes logging in what I was doing to figure out how I am spending my time.
Here is my report since Monday
THe other tool is https://www.rescuetime.com/ref/925569 which logs in your computer activity.  You can then categorize your activities such as business, entertainment, social networking etc and how productive the activity is.
They say we should work smarter not longer. Now the smart thing for me would be to find the time  wasters and do something fun with the extra time that I find.  It has been forever  since I sat down and read a book or enjoyed a movie.  What would you like to do with your time?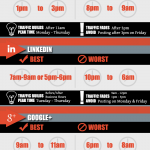 If you have been following my last few blogs about Pinterest then…..
You know what pinterest is and set up an account.
You have some ideas for your real estate pinterest site
You know how to use hashtags 
You know the best times to post on pinterest
You have a pin it button for your browser
The next step is to start pinning!
So what should I pin on my pinterest site?
Pinterest is addicting and fun and it shouldn't be all about work.  You should pin things that you find value in.  It might be a beautiful landscape scene, a great looking kitchen, a neat idea, humor, a cute puppy picture.  Pin what you like and the outcome will be a billboard of who you are, what your interests are and oh yes you are in the process a great local tour guide and the expert in your area and you are a real estate agent.
Write Blog entries and pin from them.
In the process of setting up this new pinterest site I realized that some of the pictures I want to post would do more good if I wrote a blog entry for those pictures and then pinned it.  AR here I come.  For example we have 47 lakes in Bonner  county alone and so I have lots of lake pictures.  While they are beautiful in themselves why not write a blog entry describing these various lakes and include the pictures.  People will click on the pretty pictures on pinterest, come to my blog and be able to learn more about the area.
Why would people come to my pinterest site?
People will come to your pinterest board because they like the pictures you like.  It may be a beautiful picture that they just like or they may be on a mission.  They probably aren't looking for a house to buy but they may be  looking through achitecture boards, color combinations home decor, home organization or pictures of a certain area.  They will repin pictures of rustic cabins with notes about their dream get away place.  I had one gal that repinned one of my pictures as her dream kitchen.  I am happy to say that after she realized that her dream kitchen was for sale they now own it.
What are some other ways that agents use their site. 
  Andrew Mooers dedicates a board for each of his listings with about 30-40 pictures each with a map.  I happened to notice that each of these listing boards have over 200 people watching each one.  Not bad for a few minutes of work and some pixels.
What about infographics?
Now this part isn't really my style but many people will post infographics and have some success with it.  They will make a graphic with a tag line like these:
Great advice for Sandpoint North Idaho home buyers!  If you are thinking of buying a home talk to a lender and find out how much home you can afford first.
Confused by North Idaho area real estate listing websites which area is suited for you?
Buying an Idaho Home for Sale by Owner: 3 Reasons You Need an Agent
Should I price my home higher knowing a Buyer will try to negotiate down?
Or how about this one from Bill Gassett.  (I highly encourage you to check out his pinterest site, he has some great ideas)
We are always having to explain to buyers that  we are in a non disclosure area and zillow zestimates are inaccurate.
How about Inspiration quotes?
There are tons of graphics floating around the web with inspirational quotes.  This one I had repinned 64 times.
If you like it someone else will too.
Remember to repin other peoples content.    
Will Johnson brought up a good point to include in this post. "I've found that, while it's important to pin unique pins from your website on a regular basis, it's even more important to share unique content from other sites and repin others' content.  That's what's going to get you the followers that you want to see the content from your personal site"
The internet was created and designed for people to share and connect.  Pinterest is a social networking site and you want to interact with your visitors.  Repin their pins that you want on your boards.  Follow their boards, Like their pictures and interact with people.
To sum it up, pin those things that interest you, write blogs with pictures to pin from, learn from other agents success, repin and interact with others