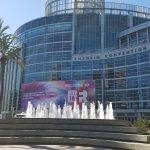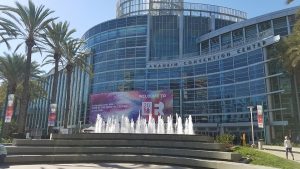 This was my first year attending Keller Williams Family Reunion. Family Reunion is a real estate convention where thousands of associates attend four days of networking, presentations, and hundreds of classes. It has everything you need to re-energize and take your business to the next level! This year KWFR was held in Anaheim California from Feb 16-Feb 23rd. I met with many agents across the United states and from several companies. It was powerful, at times overwhelming and without a doubt an event not to miss.
KW draws a very unique and awesome group of people who are well vested in the KW culture.  I caught myself a few times watching the crowd of agents all of them looking for something, a program, a method, a system, that magic pill, encouragement to get to the next level. In essence everyone there was tying to figure out something that would increase their value propositions and allow them to be of better service to their clients.  To be in the presence of some of the most remarkable minds in our industry is humbling and energizing.
Some of the KWFR highlights for me
Our new exclusive Keller Mortgage (mortgages with zero lender fees)
Keller Williams the triple crown winner   WOW!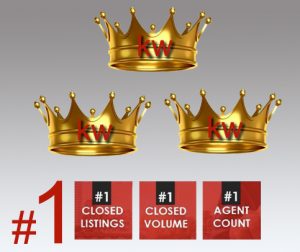 Labs process for rolling out new technology and platforms like KW Command and Kelle our new artificial intelligence
During the International ALC meeting they announced that the Northwest Region was the biggest donor to our disaster relief fund KW Cares in the United States.  Way to go!!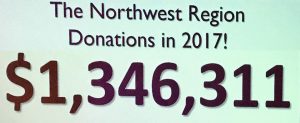 I had to stay a few extra days.  You just can't go to Sunny California and not take time to go to the ocean.  Yes I collected sea shells and dipped my feet in the water and had a wonderful time.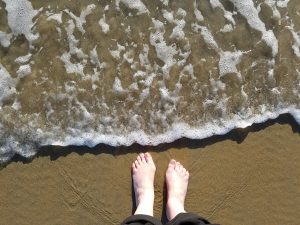 To KW associates who have now returned to their posts inspired, refreshed and excited to apply the incredible lessons learned.  Make it a great year!
Increasing your home's appeal
Remember the 60-second rule: That's all the time you have to create a winning first impression. Here are some simple to significant ways to maximize your home's appeal.
Exterior
* Keep the grass cut and remove all yard clutter.
* Weed and apply fresh mulch to flower beds.
* Apply fresh paint to wooden fences.
* Tighten and clean all door handles.
* Clean windows inside and out.
* Powerwash home's exterior.
* Ensure all gutters and downspouts are firmly attached and functioning.
* Paint the front door.
* Buy a new welcome mat.
* Place potted flowers near the front door.
Interior
* Evaluate the furniture in each room and remove anything that interrupts "the flow" or makes the room appear smaller. Consider renting a storage unit to move items off-site.
* Clean and organize cabinets, closets and bookshelves.
* Clean all light fixtures and ceiling fans.
* Shampoo carpets.
* Remove excessive wall hangings and knick-knacks.
* Repair all plumbing leaks, including faucets and drain traps.
* Make minor repairs (torn screens, sticking doors, cracked caulking).
* Clean or paint walls and ceilings.
* Replace worn cabinet and door knobs.
* Fix or replace discolored grout.
* Replace broken tiles.
* Replace worn countertops.
Special details for showings
* Turn on all the lights.
* Open all drapes and shutters in the daytime.
* Keep pets secured outdoors.
* Buy new towels for bathrooms.
* Buy new bedding for bedrooms.
* Replace old lamps or lampshades.
* Play quiet background music.
* Light the fireplace or clean out the ashes and light a candelabrum.
* Infuse home with a comforting scent, such as apple spice or vanilla.
* Set the dining room table for a fancy dinner party.
* Vacate the property while it is being shown.
Eight steps to selling your home
Define your needs. Write down all the reasons for selling your home. Ask yourself, "Why do I want to sell and what do I expect to accomplish with the sale?" For example, a growing family may prompt your need for a larger home, or a job opportunity in another city may necessitate a move. For your goals, write down if you'd like to sell your house within a certain time frame or make a particular profit margin. Work with your real estate agent to map out the best path to achieve your objectives and set a realistic time frame for the sale.
Name your price. Your next objective should be to determine the best possible selling price for your house. Setting a fair asking price from the outset will generate the most activity from other real estate agents and buyers. You will need to take into account the condition of your home, what comparable homes in your neighborhood are selling for, and state of the overall market in your area. It's often difficult to remain unbiased when putting a price on your home, so your real estate agent's expertise is invaluable at this step. Your agent will know what comparable homes are selling for in your neighborhood and the average time those homes are sitting on the market. If you want a truly objective opinion about the price of your home, you could have an appraisal done. This typically costs a few hundred dollars. Remember: You're always better off setting a fair market value price than setting your price too high. Studies show that homes priced higher than 3 percent of their market value take longer to sell. If your home sits on the market for too long, potential buyers may think there is something wrong with the property. Often, when this happens, the seller has to drop the price below market value to compete with newer, reasonably priced listings.
Prepare your home. Most of us don't keep our homes in "showroom" condition. We tend to overlook piles of boxes in the garage, broken porch lights, and doors or windows that stick. It's time to break out of that owner's mindset and get your house in tip-top shape. The condition of your home will affect how quickly it sells and the price the buyer is willing to offer. First impressions are the most important. Your real estate agent can help you take a fresh look at your home and suggest ways to stage it and make it more appealing to buyers. * A home with too much "personality" is harder to sell. Removing family photos, mementos and personalized d?cor will help buyers visualize the home as theirs. * Make minor repairs and replacements. Small defects, such as a leaky faucet, a torn screen or a worn doormat, can ruin the buyer's first impression. * Clutter is a big no-no when showing your home to potential buyers. Make sure you have removed all knick-knacks from your shelves and cleared all your bathroom and kitchen counters to make every area seem as spacious as possible.
Get the word out. Now that you're ready to sell, your real estate agent will set up a marketing strategy specifically for your home. There are many ways to get the word out, including: * The Internet * Yard signs * Open houses * Media advertising * Agent-to-agent referrals * Direct mail marketing campaigns In addition to listing your home on the MLS, your agent will use a combination of these tactics to bring the most qualified buyers to your home. Your agent should structure the marketing plan so that the first three to six weeks are the busiest.
Receive an offer. When you receive a written offer from a potential buyer, your real estate agent will first find out whether or not the individual is prequalified or preapproved to buy your home. If so, then you and your agent will review the proposed contract, taking care to understand what is required of both parties to execute the transaction. The contract, though not limited to this list, should include the following: * Legal description of the property * Offer price * Down payment * Financing arrangements * List of fees and who will pay them * Deposit amount * Inspection rights and possible repair allowances * Method of conveying the title and who will handle the closing * Appliances and furnishings that will stay with the home * Settlement date * Contingencies At this point, you have three options: accept the contract as is, accept it with changes (a counteroffer), or reject it. Remember: Once both parties have signed a written offer, the document becomes legally binding. If you have any questions or concerns, be certain to address them with your real estate agent right away.
Negotiate to sell. Most offers to purchase your home will require some negotiating to come to a win-win agreement. Your real estate agent is well versed on the intricacies of the contracts used in your area and will protect your best interest throughout the bargaining. Your agent also knows what each contract clause means, what you will net from the sale and what areas are easiest to negotiate. Some negotiable items: * Price * Financing * Closing costs * Repairs * Appliances and fixtures * Landscaping * Painting * Move-in date Once both parties have agreed on the terms of the sale, your agent will prepare a contract.
Prepare to close. Once you accept an offer to sell your house, you will need to make a list of all the things you and your buyer must do before closing. The property may need to be formally appraised, surveyed, inspected or repaired. Your real estate agent can spearhead the effort and serve as your advocate when dealing with the buyer's agent and service providers. Depending on the written contract, you may pay for all, some or none of these items. If each procedure returns acceptable results as defined by the contract, then the sale may continue. If there are problems with the home, the terms set forth in the contract will dictate your next step. You or the buyer may decide to walk away, open a new round of negotiations or proceed to closing. Important reminder: A few days before the closing, you will want to contact the entity that is closing the transaction and make sure the necessary documents will be ready to sign on the appropriate date. Also, begin to make arrangements for your upcoming move if you have not done so.
Close the deal. "Closing" refers to the meeting where ownership of the property is legally transferred to the buyer. Your agent will be present during the closing to guide you through the process and make sure everything goes as planned. By being present during the closing, he or she can mediate any last-minute issues that may arise. In some states, an attorney is required and you may wish to have one present. After the closing, you should make a "to do" list for turning the property over to the new owners. Here is a checklist to get you started. * Cancel electricity, gas, lawn care, cable and other routine services. * If the new owner is retaining any of the services, change the name on the account. * Gather owner's manuals and warranties for all conveying appliances.
THE KELLER WILLIAMS BELIEF SYSTEM
At the core of Keller Williams Realty is a conviction that who you are in business with matters. We believe that the company we keep can contribute to our lives in untold ways. To help cement this understanding, we've formalized a belief system called the WI4C2TS that guides how we treat each other and how we do business.

Win-Win:  or no deal
Integrity:  do the right thing
Customers:  always come first
Commitment:  in all things
Communication:  seek first to understand
Creativity:  ideas before results
Teamwork:  together everyone achieves more
Trust:  starts with honesty
Success:  results through people
Our Mission
To build careers worth having, businesses worth owning, and lives worth living.
Our Vision
To be the real estate company of choice.
Our Values
God, Family, then Business.
Our Perspective
A training and consulting company that also provides the franchise systems, products, and services that lead to productivity and profitability. Keller Williams thinks like a top producer, acts like a trainer- consultant, and focuses all its activities on service, productivity, and profitability.
Congratulations to the Lipp family on your new home!!!
Lake views from almost every room of this 3 bedroom 3 bath 1716 sq ft two story new home built in 2013. Beautiful kitchen with custom cabinets stainless steel appliances, oak pergo floors. Green built energy efficient home with extra insulation in trusses and hardiboard siding. Office and good sized bedrooms and Master bedroom features a huge walk in closet. Featuring recessed lighting, wood cased window sills and double sinks. Full length covered deck with lake views, large trees, good year round access.
Here is a great re-blog  on the Trains traveling Sandpoint and Bonners Ferry Idaho
North Idaho is a main funnel for trains coming from and heading to Canada. We have plenty and since moving here I have become facinated with them.  The shear power, strength of these brutes just amazes me.  Their beauty as they move through the different landscapes.  
Weather extremes only seems to enhance them.  Like a magnet one is drawn to them.  Or perhaps it is just me.  Most trains coming through are 100 cars or more.  Imagine!  
***************************************************************************
This short video (23 seconds) shows a train starting again after having waited on another to pass.  The domino type sound rushing from car to car as the couplings grab.  Keep in mind the engine for this train is up around to the left beyond the buildings.  The power and strength amazing!
These cars were empty thus the hollow sound.  The same effect when full only a very heavy thunk, thunk, thunk with no less speed.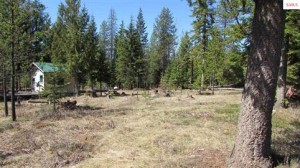 10 acre parcel with electric on site. Rolling to level with no steep areas. Open and cleared areas with plenty of southern exposure. Small cabin on
site (no water) with electric. Mature trees for privacy and less than a mile to County Maintained Rapid lightning Road. Bring your imagination and North Idaho dreams for to this parcel. Sandpoint Idaho $60,000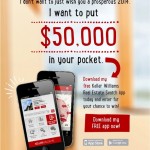 Win $50,000 by downloading home search ap
Do you have a smart phone?
Keller Williams is trying to promote the new mobile APP and they are offering a $50,000 grand prize in their sweepstakes.  Just go to http://app.kw.com/kw/index.php?tcode=KW2BF901G&ctmpl=kw
 Download the AP and put in code KW2BF901G   for your chance to win the $50k
GOOD LUCK!
Rain Silverhawk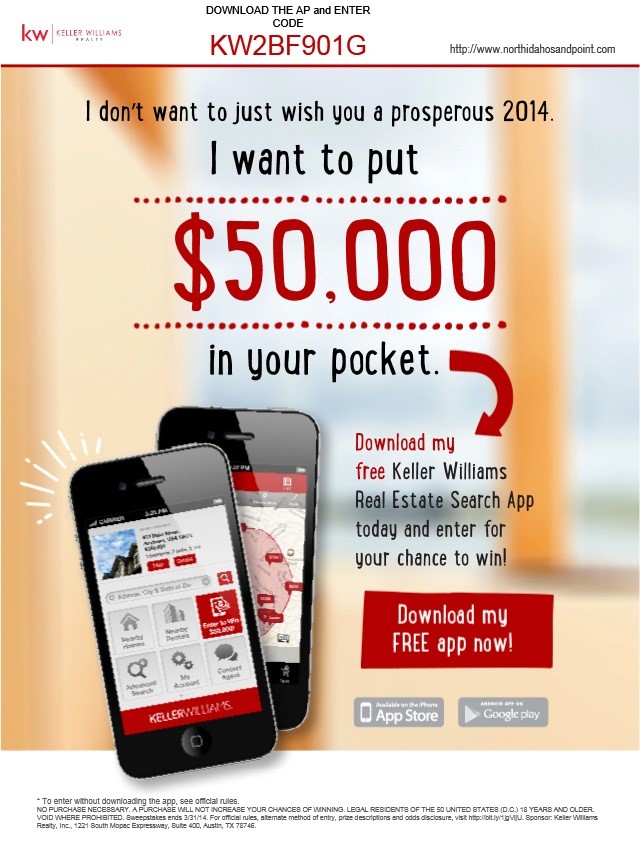 Connect with me on:
Keller Williams | 130 S. 2nd Ave Suite A | Sandpoint | ID | 83864
Add rain@northidahosandpoint.com to your safe senders list. Click here for directions.