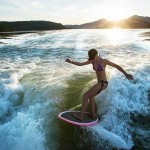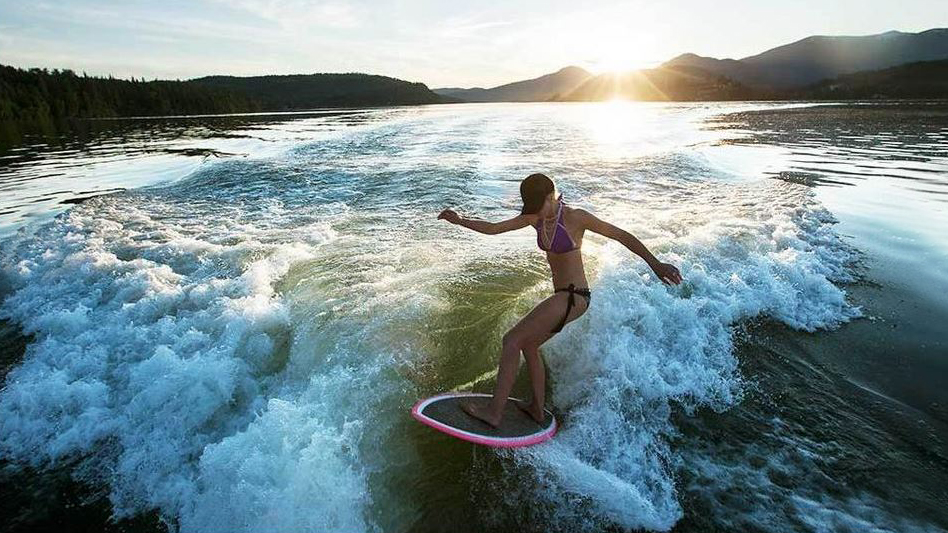 http://www.travelchannel.com/daily-escape/lake-pend-oreille
Who said you need an ocean to go surfing? The 43-mile-long Lake Pend Oreille in Sandpoint, ID, has become popular for wakesurfing — the watersport where you ride the crest created behind a motorboat. Here you can practice your moves from morning to night while taking in the scenery from 3 surrounding mountain ranges. When you're finished, relax on one of the lake's sandy beaches. The best part? No need to worry about sharks.
http://www.bestoftheroad.com/town/sandpoint-id/7741
Sandpoint, ID has an overwhelming view from the Long Bridge into town with Schweitzer Mountains creating the backdrop and Lake Pend Oreille perfectly supplementing the setting. A 43-mile long, glaciated body of water, Pend Oreille, is the fifth deepest lake in the U.S. with 111 miles of shoreline. Its pristine waters are a major factor in the community of Sandpoint's high ranking as a premier tourist destination. Visitors can take a ski lift up 6,800 feet for the majestic view or try a boat cruise down below. 

The area offers plenty of outdoor activities from skiing and boating to biking or hiking. Attractions include the Cedar Street Bridge Public Market, Silverwood Theme Park, Boulder Beach Waterpark, and Farrugat State Park. Visitors can also enjoy the Bonner County Museum or the Panida Theater. 

For avid golfers, Sandpoint is an ideal destination. Sandpoint and the surrounding area boast numerous courses and a wide range of course options. Nearby hotels offer affordable "stay and play" packages.
Treat yourself to one of these great drives, islands, beach towns, lakes, or wilderness escapes
Brown Cannon III
Pristine waters in Idaho's lake country
Deep, blue, and busy are three words that sum up three of the West's most beautiful lakes: Coeur d'Alene, Pend Oreille, and Priest. Each has its own character — Coeur d'Alene's got boats and golf and high-end resorts; Pend Oreille has the little town of Sandpoint; and Priest has huckleberry pie.
More:
Idaho's lake country
http://www.ktvb.com/story/local/2014/08/24/12188377/
Idaho makes CNN's top 10 'Dare to Go' list
BOISE — Idaho and its rugged wilderness is highlighted in a recent CNN article of places off the beaten path for those looking for an adventure.
In addition to the Gem State, the CNN 10: Dare to Go list includes such places as Mongolia, Malawi, the Arctic Circle, and even space. Idaho was the only destination in the article that is located in the United States.
The article acknowledges that most people outside the state know little of Idaho, aside from its famous potatoes. It gives readers a general overview of some of Idaho's unique features, including Shoshone Falls (the Niagara Falls of the West), Hells Canyon (deepest river gorge in North America), and the Frank Church River of No Return Wilderness (second-largest wilderness area in the lower 48).
Noted is Idaho's history of stubborn individualism and some colorful characters forever associated with the state, including Ernest Hemingway, Evel Knievel, and even Napoleon Dynamite.
Then the article gets to the heart of why adventurers should consider Idaho for their next trip — the pristine beauty of its mountainous midsection and forested panhandle.
Visitors are encouraged to start their trip in Boise before making their way to Stanley and the Sawtooth Mountain Range.
Or for a real adventure, the article reads, pack a tent and head deeper into the Frank Church-River of No Return Wilderness Area, a vast swath of rugged forest that s home to bears, moose, mountain lions and wolverines.
Here's a look at the CNN 10: Dare to Go:
1. Bolivia
2. Malawi
3. Mongolia
4. Idaho
5. Romania
6. Cape Breton Island, Nova Scotia
7. Arctic Circle
8. Bhutan
9. Northland New Zealand
10. Space
America's full of great mountain towns where the people are friendly, the atmosphere is authentic "country," and the outdoor recreational opportunities are almost limitless. 

In such a big country, it's hard to pick. But, counting down, here are my Top 10 mountain towns for 2014…

10 – BEND, OREGON: Most people – even in the U.S. – don't associate the heavily-forested, rainy, mountainous state of Oregon with the word "desert." But Bend, with a growing reputation among outdoor enthusiasts, is actually a "high-desert" town, with dry weather and snow-capped mountains. The days are sunny and the nights are cool, and there are incredible mountain-biking, hiking, and horseback trails, along with golf, fishing, rafting, and skiing and snowboarding on Mt. Bachelor. And Bend hasn't yet been discovered by the "In" crowd, giving it a laid-back openness and authenticity not found in a lot of other places. 

9 – WOODSTOCK, VERMONT: This Woodstock is not the site of the famous 1969 rock festival; that happened in neighboring New York State. But this Woodstock is a picturesque mountain town with a lot to offer. Country general stores and open-air markets – no less than six of them. Unique little shops with wooden floors where a bell rings as you walk in. Unusual art galleries and antique shops. Intimate little eateries. A variety of historic lodges and bed-and-breakfasts. Farms and you-pick-'em orchards. Great skiing at nearby Killington, and great hiking everywhere. And perhaps the best maple syrup and maple-sugar candy in America! 

8 – LAKE GEORGE, NEW YORK: Located in upstate New York's Adirondack Mountains, the town sitting on Lake George, if you approach it at night, first appears as a glowing jewel set amidst the dark surrounding peaks. The Adirondacks are much as they were back when Revolutionary War battles were fought here – scenic, pastoral, and gentler-paced. Accommodations range from bed-and-breakfasts (such as the Lake George Bed and Breakfast) to log cabins to historic lodges (Glenmoore Lakeside Cottages & Lodge). Outdoor activities start with ATV-ing and biking and hiking and golf, and continue on to fishing and horseback riding and rafting and hot-air ballooning. And a plethora of winter sports, of course. 


7 – GATLINBURG/PIGEON FORGE, TENNESSEE: The neighboring towns of Gatlinburg and Pigeon Forge are a great family destination. In fact, they may have more attractions per capita than anywhere in America. 

A short list would include Ober Gatlinburg amusement park, the world-class Aquarium of the Smokies, native-daughter Dolly Parton's spectacular Dollywood amusement park, and Dolly's Dixie Stampede, where you eat good ole Southern cookin' with your fingers while a colorful rodeo/circus whirls around below you. 

Yet, you're also right at the gateway to Great Smoky Mountains National Park, and to stunning panoramas such as Cade's Cove.  



6 – TAOS, NEW MEXICO: Taos is a little village of 6,000 souls with a world-class art scene, a Native pueblo, recreational activities in magnificent panoramas, and a spiritualism – enhanced by the unique natural light – found nowhere else. Taos Mountain – "the mountain" to locals – can be seen from just about anywhere in town; to the Indians on the Taos Pueblo, it's the source of life itself. The bed-and-breakfasts here (such as Hacienda Del Sol) are authentic Southwest haciendas, filled with art and historic artifacts. A short drive from town is the Taos Ski Valley, where you'll find a European-style village with a clock tower and interesting shops, and great hiking, biking, and horseback riding, as well as excellent lodging options, such as the luxury rentals at Snakedance Condos. Up here, you can hike up to Williams Lake, an ice-blue alpine lake with a waterfall, and furry little marmots who'll have no qualms about coming right up to you if they smell any food. And if you're feeling really adventurous, you can climb Wheeler Peak, at 13,000 feet the highest peak in New Mexico.    

5 – WINTER PARK, COLORADO: You'll run out of time long before you run out of things to do here. In winter, there's cross-country skiing, dog-sledding, hot-air ballooning (yes, in winter!) snow-cat skiing, snow-mobiling, ice skating, snow-shoeing, skiing, snow-boarding, sleigh-riding, tubing, and sledding. In summer, there's mountain-biking, hiking, rafting, climbing, boating, camping, fishing, horseback riding, kayaking, and zip-lining. And everywhere you look, there are incredible vistas of far-off horizons and sky-piercing peaks. A great place to stay is the Winter Park Resort, Colorado's oldest continually-operated ski resort, with interesting shops and amusements, and 18 eateries from which to choose. And nearby are colorful Old West towns such as Georgetown (with the old-time Georgetown Loop Railroad) and Idaho Springs, where the main streets haven't changed since the 1800's.   


4 – SANDPOINT, IDAHO: Rand McNally/USA Today readers voted Sandpoint, tucked up in the Idaho Panhandle 40 miles from Canada, as the most beautiful small town in America two years ago. This is a classic old Northwestern town, sitting astride Lake Pend Orielle, with 148 square miles of fishing, kayaking, and boating among isolated little coves and inlets, with bald eagles circling overhead. Main Street is lined with wood-frame shops and galleries, along with a century-old classic theater and a colorful local landmark, the Common Knowledge Bookstore and Teahouse. Places to stay range from the Schweitzer Mountain Ski Resort, an all-year resort village sitting atop the mountain of the same name; Sleep's Cabins, owned by the same family for generations, and perched on the shores of Lake Pend Orielle, where the sunsets will mesmerize you; and the Western Pleasure Guest Ranch, where, at night you can bunk down in authentic cabins filled with Native crafts or in the main lodge, which has a magnificent Great Room), and during the daytime you can ride amidst thick Northwestern forest with beautiful silence, and isolated herds of cows.   


3 – BRYSON CITY, NORTH CAROLINA: This is a picturesque Southern town with a statue in front of the courthouse – which sits on the town square – and an eclectic collection of shops and restaurants. Among them is a local landmark called the N.C. Clampitt Hardware Company, at which you can find classic hardware and a whole lot more. Bryson City's the home of the Great Smoky Mountains Railroad, which will take you through stunning old-growth forests and coves and meadows, and which has an interesting railroad museum at the old depot. In addition, this town's also the gateway to Great Smoky Mountains National Park, and close to the scenic Blue Ridge Parkway. The best place to stay is Lands Creek Log Cabins, a mountaintop hideout with beautiful log cabins with hot tubs on their decks. The cabins are built on top of a rushing creek, so you can fall asleep each night to the sounds of the creek right beneath you. 


2 – ESTES PARK, COLORADO: This town sits a few miles from the entrance to Rocky Mountain National Park, which is filled with some of Colorado's highest peaks and most unusual wildlife (such as bighorn sheep). Main Street has interesting shops and galleries – and probably the best collection of ice cream shops of any small town in the West. This is a four-seasons resort town, with plenty of outdoor activities in both winter and summer, and two great places to stay. The Estes Park Resort sits right on Lake Estes, with a restaurant overlooking the lake, a marina with boat rentals right outside, horseback riding across the street, and a homey, woodsy ambience. And The Stanley Hotel – built in 1909 by Freelan Oscar Stanley, inventor of the Stanley Steamer automobile – is a white mountain lodge overlooking the town, Victorian on the outside and Western on the inside, with a reputation for "ghostly" nighttime visitors  who've checked in, but never checked out…among them Mr. and Mrs. Stanley!   

And now, my No. 1 pick…


1 – COEUR D'ALENE, IDAHO: Coeur D'Alene is cobbled sidewalks and gas-lit streetlamps and green awnings and red-brick storefronts, behind which lie attractive little shops, eateries, and galleries. It sits on an ice-blue alpine lake with 125 miles of shoreline, from which rise 7,000-foot mountains covered in deep-green forest. Jutting out into Lake Coeur D'Alene is Tubbs Hill, a rocky, forested peninsula offering stunning views around every turn. People come here to hike, rock-climb, picnic on ledges overlooking the lake, row, sail, canoe, or kayak, with bald eagles flying overhead. A half-hour from town is "The Route of the Hiawatha," a long-abandoned railroad track through a series of tunnels and 1,000-foot high wooden trestles, now one of America's most unusual mountain-bike routes. Back in town, the Coeur D'Alene Resort sits at the foot of the lake. The resort has luxurious guestrooms (many with spectacular views), three good restaurants and an elegant bar, and, a float-plane service operating from its dock, along with lake-cruise boats. And it boasts a golf course (accessible by mahogany boat) with the only movable floating green in the world.

Well, there you have it – my Top 10 Mountain Towns in America. You folks probably have your favorites, as well. So let's hear about them…let the debate begin!!! 
– See more at: http://www.worldpropertychannel.com/featured-columnists/great-destinations/top-10-mountain-towns-in-america-8118.php#sthash.22y2urX8.dpuf
Google eCity Awards recognize the strongest online business community in each state
Congratulations, Sandpoint
Surrounded by mountains and overlooking Idaho's largest lake, scenic Sandpoint has another thing going for it: A business community of local shops and online retailers who've led the way in the state's web presence.
The Google eCity Award recognizes the strongest online business community in each state. Google and independent research firm Ipsos MORI analyzed the online strength of local small businesses in cities in all fifty states. The city with the highest scores in each state was designated a 2013 Google eCity.
http://www.usatoday.com/story/travel/destinations/2013/11/28/mountain-town-winter/3769789/
10 picture-perfect mountain towns
There's something impossibly charming about a mountain town in winter. Lantern-lit cobblestone streets, glowing cafes filled with friendly locals, and intimate family-run inns warm even the coldest, shortest of days. Add fresh mountain air, high-altitude views, snow sports, and steamy thermal springs, and you just might find yourself falling for winter. But don't expect crowds: These charming little hamlets are, for now, relatively undiscovered. From Colorado to Japan, here are 10 off-the-beaten-path mountain towns that are especially enchanting during wintertime.
Sandpoint, Idaho
Sandpoint's Lake Pend Oreille reflects the rugged Selkirk and Cabinet mountains, doubling their visual impact. It's the perfect backdrop for a small town that's big on local culture. From wineries and breweries to the arts—Sandpoint is home to major music and film festivals—this little township is a vibrant, happening haven in the wilds of northern Idaho.
What to do: Head to higher altitudes and go skiing at the nearby Schweitzer Mountain Resort, with 59 named trails and 2,500 acres of terrain. Or, when conditions are right, tie up some skates and join in a game of ice hockey on the frozen Lake Pend Oreille.
Where to stay: Talus Rock Retreat is a Tuscan-style, timber-framed lodge that offers water views and has plenty of porches. Though the property is quite large (30 acres), it features just six guest rooms and suites, so it feels quite intimate even when the place is booked.
Crans-Montana, Switzerland
Want to wake up to the gentle clink of cowbells high in the Swiss Alps? Ride the funicular to a ski resort comprised of two towns: Crans and Montana. This quintessentially Alpine destination offers low-key nightlife, a walkable town center, stunning mountain views, and skiing at altitudes of up to nearly 10,000 feet.
What to do: You're in Switzerland. So eat some chocolate. Happily, this small resort just happens to be home to a national chocolate champion. Head to David L'Instant Chocolat, the local shop of Swiss Chocolate Masters' 2013 winner David Pasquiet, where sumptuous Swiss confections—from chocolate-robed nougat to dark chocolate with berries and star anise—are expertly crafted by hand.
Where to stay: We can't think of a more worthwhile activity in Switzerland than relaxing in a heated outdoor infinity pool with a view of the Alps. (Just the thought has us feeling relaxed.) At LeCrans Hotel & Spa, choose between indoor and outdoor pools, and enjoy balconies overlooking pine- and snow-covered peaks, rustic decor, and locally sourced wines in the on-site cellar.
Fernie, Canada
You may not have heard of Fernie, British Columbia, a town located a few hours' drive from Calgary. The destination's relatively unsung status (for now) means that less-crowded trails and less-expensive hotel stays and lift tickets await savvy travelers. Plus, the place is downright gorgeous. The historical town center is surrounded by dramatic views of blue and white snowcapped mountain peaks.
What to do: Ski down 2,500 acres of terrain at Fernie Alpine Resort. Or try cat-skiing—essentially riding a heated snow-grooming vehicle to access deep powder and untracked terrain—via a provider such as Island Lake Catskiing.
Where to stay: Fernie's budget-friendly Red Tree Lodge is as affordable as it is cozy and laid-back; rates start at $119 per night during peak winter season. Thaw out in the on-site sauna and hot tub after a long day on the slopes.
Megeve, France
If Paris were a mountain town, it would be Megève. This chic ski resort, founded in the 1920s by Baroness Noémie de Rothschild, was known as the "21st arrondissement de Paris" in its heyday, when it functioned as a glamorous destination for the beau monde. Today, the town maintains a fashionable ambiance with upscale boutiques and Michelin-starred restaurants, but its horse-drawn carriages, cobblestone streets, and medieval architecture are distinctly Old World.
What to do: Sitting in the shadow of Mont Blanc, Megève is an ideal base for winter sporting on the highest mountain in the Alps. Moreover, the town is known for its luxurious spas. The much-loved spa at Les Fermes de Marie, which Conde Nast Traveler calls one of the best in the world, features treatments derived from mountain plants.
Where to stay: Rooms at Les Fermes de Marie are outfitted Swiss-chalet-style, with dark wood, wooly fur blankets, and rustic unworked materials. The surrounding Alpine views and the spa (as we mentioned) are unparalleled.
Cody, Wyo.
Escape to cowboy country in gritty Cody, the town founded by the eponymous Buffalo Bill (William F. Cody) himself. This special place is home to authentic emblems of the West: cattle ranches, rugged mountains, and wildlife. But expect some kitsch, too. With tourist-friendly shows, from gun-fight reenactments to rodeos, Cody continues to uphold the spectacular traditions of showman Buffalo Bill.
What to do: In warmer months, Cody is an excellent base for day trips to nearby Yellowstone National Park. During winter, play in the snow at Sleeping Giant Ski Area, dubbed the most affordable ski area in the state.
Where to stay: Buffalo Bill built the landmark Irma Hotel around the turn of the century. The property is listed on the National Register of Historic Places and is even rumored to be haunted.
Shirakawa-go, Japan
The predominant attraction in this quiet, mysterious village set at the base of Mount Hakusan is its collection of Gassho-style thatched-roof houses, the only buildings of their kind in Japan. The structures were built mostly in the 19th century and have remained intact largely because this hidden little village—now a World Heritage site—has stayed isolated from the rest of society. It's simply magical.
What to do: Explore. Take pictures. Breathe in the clear, quiet mountain air. According to many travelers, the area is especially picturesque during winter, when it is covered with snow. It's roughly a 45-minute bus ride from nearby Takayama to Shirakawa-go—an easy and worthwhile day trip.
Where to stay: In nearby Takayama, Oyado Yamakyu, a traditional Japanese inn known as a ryokan, offers an authentic local experience. The property has deep, communal Japanese mineral baths for guest use and customary local meals are served on-site.
Berkeley Springs, W.Va.
For those seeking an American mountain town not centered on downhill skiing, Berkeley Springs (officially named Bath) fits the bill. Say "spaah" in this peaceful resort destination with a bounty of public bathhouses. The warm mineral springs that flow naturally through the area feed the soothing pools and tubs in Berkeley Springs State Park and the many local spas.
What to do: Take a dip in therapeutic mineral waters in the heated Roman baths at Berkeley Springs State Park. You're in good company: George Washington once bathed here.
Where to stay: A Second Empire-style mansard-roof home, the Victorian Manor Inn guarantees a unique historical experience with its antiques-filled rooms and generous home-cooked breakfasts.
Ifrane, Morocco
The resort town of Ifrane in Morocco's Atlas Mountains has, surprisingly, a markedly European appearance. Expect Continental architecture—without arabesque ornamentation—with sloped Alpine roofs and timber-framed houses. Some call the town Morocco's "Little Switzerland."
What to do: The town is surrounded by forests of cedar, oak, and pine, with a network of hiking trails, and there are downhill skiing opportunities—a rarity in Morocco—at the small resort of Michlifen.
Where to stay: Michlifen Ifrane Suites & Spa is a popular luxury resort in the Atlas Mountains. There's a lot to do here, with an indoor heated pool, a bowling alley, a sports hall (with volleyball and basketball courts), several restaurants that serve Moroccan and European cuisine, and, naturally, a full-service spa. Guest rooms feature mountain-themed decor, in keeping with the property's mountain-lodge ambiance.
Tegernsee, Germany
Discover peaceful small-town charm just 45 minutes from Munich by car (or via a direct rail link) in the lakeside hamlet of Tegernsee. This Bavarian resort town is positioned along the rim of Lake Tegernsee, a shining pool circled by Baroque churches and timeworn houses with red roofs, and is a popular spot for boaters and cyclers in the summer and Alpine skiers during the winter season.
What to do: Visit Tegernsee Abbey, an imposing former Benedictine abbey built in the 8th century. Hop on a toboggan and zoom down the longest natural sledding run in Germany at Wallberg Mountain. (Visitors can ski and snowboard too.) Or relax at lakefront sauna Monte Mare, where you can get toasty in the steamy "sauna ship" moored on Lake Tegernsee—it bobs gently in the water and features panoramic views of the mountain scenery.
Where to stay: Spend the night in a unique historical inn, of course. Der Westerhof Hotel, set almost 600 feet above Lake Tegernsee, provides gorgeous views of the water and surrounding mountains, plus a dash of history. The property, which dates back to the 12th century and was originally home to a monastery, was renovated and reopened as a hotel in 2005.
Ouray, Colo.
This gorgeous historical town is set in a box canyon and surrounded by glacier-carved rock in the San Juan Mountains. With a major ice-climbing park, steaming pools of therapeutic hot springs, and the kind of charming Victorian architecture that looks picture-perfect when covered with snow, Ouray makes for an idyllic winter sanctuary.
What to do: Ice-climbing formations and hot springs are two of the main attractions in Ouray. Visit Ouray Ice Park to try your hand at the former, then soak away the winter chill at the Wiesbaden's natural vapor cave when you need a rest. Another option for soaking tired muscles is the Ouray Hot Springs Pool, open year-round, which is filled with roughly one million gallons of the heated, healing waters that flow through the area.
Where to stay: The Wiesbaden offers accommodations as well as spa services and thermal baths. Spend the night and receive unlimited access to the on-site vapor cave.
http://www.travelandleisure.com/articles/americas-prettiest-winter-towns/12
Sandpoint, ID
With the Selkirk Mountains (alt. 8,000 feet) as their backdrop and Lake Pend Oreille for a centerpiece, Sandpoint's roughly 7,500 residents are largely of the skiing, sailing, hiking, fishing, and paddleboarding variety. But the town also supports the arts; see what's playing at the historic Spanish mission–style Panida Theater. Breweries, a vineyard, and a fiercely independent retail and dining scene are icing on the cake for locals—and travelers savvy enough to swing by. Sandpoint is only 75 miles from Spokane, across the Washington State border.
Winter Fun: Join Selkirk Powder for Sno-cat treks to Schweitzer Mountain's wild west side, where you and a maximum of nine others can enjoy 4,000 acres of fresh tracks in terrain tracked by mountain lions and home to woodland caribou and grizzly bears.
Schweitzer an editor's pick for "Best-Kept Secret" thanks in part to "picture-perfect Sandpoint," in their 2011-2012 Resorts review.
A lot of unheralded mountains claim to be "the best resort you've never skied." With Schweitzer, it just might be true. The skiing is exceptional (and ridiculously roomy), wilderness stretches to the horizon, picture-perfect Sandpoint is just around the bend and the locals radiate an almost unearthly contentment. What do they know that we don't?
Sandpoint, ID
With the Selkirk Mountains (alt. 8,000 feet) as their backdrop and Lake Pend Oreille for a centerpiece, Sandpoint's roughly 7,500 residents are largely of the skiing, sailing, hiking, fishing, and paddleboarding variety. But the town also supports the arts; see what's playing at the historic Spanish mission–style Panida Theater. Breweries, a vineyard, and a fiercely independent retail and dining scene are icing on the cake for locals—and travelers savvy enough to swing by. Sandpoint is only 75 miles from Spokane, across the Washington State border.
Winter Fun: Join Selkirk Powder for Sno-cat treks to Schweitzer Mountain's wild west side, where you and a maximum of nine others can enjoy 4,000 acres of fresh tracks in terrain tracked by mountain lions and home to woodland caribou and grizzly bears.