North Idaho is an anglers Paradise filled with Rivers, Creeks Ponds, lakes, sloughs and waterways. No matter if you are a serious Angler looking for the Big One or you just want to take the kids for a sure fire fishing experience, North Idaho is the place for you.  You can get out the down riggers for those big fish in the depths of Lake Pend Orielle, cast your fly fishing rod on the many streams, or bundle up in the winter months for a little ice fishing.  No matter what your fishing style, Idaho aims to please.  The Panhandle Region has world class fishing and has produced 1/3 of the states record fish. Idaho is the only inland western state with ocean-run salmon (Right now the state record 54 lbs) and steelhead (record 30 lbs 2 oz.) The state record chinook salmon (42 lbs) came from Lake Coeur d'Alene and a whopping lake trout exceeding 57 lbs was caught in Priest Lake.
Lake Pend Orielle has a quite few all time state fish records such as the record for A 32 pound Dolly Varden,   A 37 pound Kamloops trout  and 6 pound 8 ounce Lake White fish all taken from Lake Pend Oreille.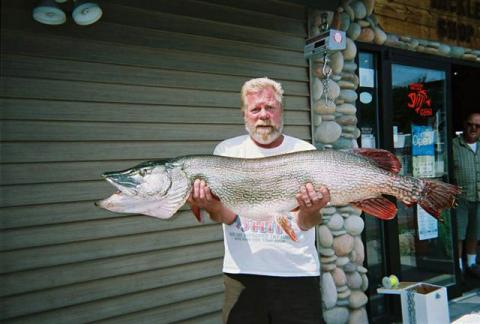 A 40 lb Northern Pike was caught in Lower Twin Lake beating out the old records for a 38 plus pounders in Hayden Lake and Lake Coeu r d alene.  Hauser Lake produced a Tiger Muskie weighing in at 38 lbs 7 oz.
Large Mouth Bass caught in Anderson Lake weighed in at 10 pounds 15 ounces.
What fish will I find in North Idaho
The most common game fish in Idaho include:
Bluegill
Brook Trout
Brown Trout
Catfish
Chinook Salmon
Crappie
Cutthroat Trout
Kamloop
Kokanee
Lake Trout
Largemouth Bass
Whitefist
Northern Pike
Rainbow trout
Redband Trout
Smallmouth Bas
Splake
Steelhead
Tiget Musky
Walleye
White sturgeon
Yellow Perch
Here is a  fish identification guide
Also check out the Angler Guide
What North Idhao waterways are stocked by fish and game?
While your favorite fishing spot may be places like the Clark Fork River, Pack River or Priest lake if you are looking for a stocked waterway there are plenty to choose from.
There are 56 waters in the PANHANDLE Region that are stocked with fish,
Antelope Lake
Big Talk Lake
Bloom Lake
Blue Lake
Bonner Lake
Brush Lake
Bull Moose lake
Calder Pond
Clark Fork Lodge Pond
Clee Creek Pond
Cocolalla Creek
Cocolalla lake
Coeur d alene Lake
Coeur d alene river
Crater Lake
Dawson Lake
Day Rock Pond
Devils Club Lake
Dismal Lake
Elsie Lake
Fernan Lake
Freeman Lake
Glidden Lake
Gold Creek Pond
Granie Lake
Grouse Creek
Hauser Lake
Hayden Lake
Heart Lake
Hero Lake
Jewel Lake
Kelso Lake
Lake Pend Oreille
Larkins Lake
L-P Slough
Lucky Friday Pond
Mirror Lake
Mud Lake
North bound Lake
Noseeum lake
Pnderosa Springs Pond
Post Falls Park Pond
Robinson Lake
Rose Lake
Round Lake
Sinclair Lake
Skyland Lake
Smith Lake
Solomon Lake
Spirit Lake
Steamboat Pond
Stoneridge Reservoir
Twin Lakes (Upper and Lower)
 Fishing Tournaments
April-May: Spring Fishing Derby, Lake Pend Oreille Idaho Club. 264-5796
June: North Idaho Free Fishing Day
June-July: Panhandle Bass Anglers Tournament
June: Harrison Annual Kids Fishing Tournament
August: American Bass Tournament, Lake Pend Oreille. 659-8227
November: Thanksgiving Fishing Derby, Lake Pend Oreille Idaho Club. 263-0424
 Fishing Guide Services
Seagull Charters
PO Box 217
Clark Fork, ID 83811
(208) 266-1861
(208) 290-7979
Blue Ribbon Charters
(509) 475-4828.
E-Mail at SLaut34171@aol.com.
Wilderness Charters of Priest Lake
608-609-4040
info@wildernesscharters.com
Pend Oreille Charters
401 Mountain Creek Rd, Sandpoint, ID 83864
(208) 265-6781
Fishing Guides, Fishing Charters & Parties
Diamond Charters Fishing
47392 Highway 200, Hope, ID 83836
(208) 265-2565
Eagle Charters
PO Box 101, Hope, ID 83836
(208) 264-5274
Fishing Guides
More Info Website Directions
Go Fish! Charters
Sandpoint, ID 83864
Phone (208) 597-5020
Indian Creek
Priest River, ID 83856
Phone (208) 443-9024
Kootenai River Outfitters
Corner of Highway 2 and 56
Troy, MT 59935
Phone (406) 295-9444
Toll-Free (800) 537-8288
Trophy Trout Charters
PO Box 33
Careywood, ID 83809
Phone (208) 683-2960
Fins & Feathers Tackle Shop and Guide Service
1816 Sherman Avenue
Coeur d'Alene, ID 83814
(208) 667-9304
Jeff@Fins1.com
Castaway Fly Fishing
1114 N 4th Street, Coeur d'Alene ID 83814
Phone: (208)765-3133
jroope208@gmail.com
Northwest Outfitters
2171 N. Main
In The Village at Riverstone
Coeur d'Alene, Idaho 83814
208.667.2707
RICKS ON THE HOOK GUIDE SERVICE
7385 N Aaron St, Coeur D Alene, ID 83815
(208) 691-1737
Silver Bow Fly Shop
13210 E Indiana Ave, Spokane Valley, WA 99216
(509) 924-9998
Fishing Guides, Fishing Charters & Parties
Panhandle Outfitters
12601 S Thunder Mountain Ln, Valleyford, WA 99036
(509) 922-8289
Fishing Guides, Fishing Charters & Parties
CRYSTAL SPRINGS TROUT— YOU CATCH!
822 Bear Creek Road, Kingston, ID 83839
(208) 682-4257
Fishing Guides, Hunting & Fishing Preserves, Fishing Bait
Department of Fish and Game Contact
Coeur d'Alene Regional Headquarters (208)769-1414
Bonners Ferry (208)267-7629
Clark Fork (208)266-1501
Kellogg (208)682-4674
Moyie Springs (208)267-7629
Naples (208)267-4085
Priest River (208)448-2302
Rathdrum (208)265-8320
Sagle (208)265-8320
Sandpoint (208)265-8835
St. Maries (208)245-8100
Wallace (208)556-1513
Take me fishing!
Idaho Fish and Game's "Take Me Fishing" trailers travel to local ponds across the state.
The fishing equipment can be checked out for free during the scheduled times listed for your area.
Reservations are not needed and equipment is checked out on a first-come, first-served basis.
Participants will be granted a permit to fish without a license.
Idaho children 13 years old and under, can fish for free.
Come to North Idaho, the fish are biting!